Thanks to our 2011 summer students!
posted Tuesday, October 11, 2011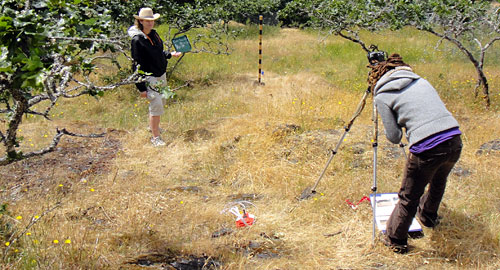 In summer 2011, we were happy to have two University of Victoria co-op students working with us. As they dive back into school this fall, we'd like to thank them for all the work they did to move GOERT projects ahead during their time with us. In addition to participating in ecological surveys and restoration, representing GOERT at outreach events, and working with volunteers to update our species at risk and invasive species field manuals, they each had individual projects they were working on.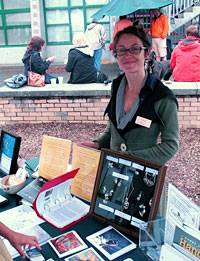 Amanda Evans has almost finished her Bachelor of Science degree in Environmental Studies and Geography, with a Diploma in Restoration of Natural Systems. Over the summer, she helped prepare our recently published restoration guide, Restoring British Columbia's Garry Oak Ecosystems: Principles and Practices; conducted site surveys and helped develop a restoration plan for a new park in View Royal; and did mapping, monitoring, and other field work for restoration sites.
Amanda is continuing to work with the Town of View Royal as a volunteer, and through the UVic Restoration of Natural Systems program, to implement restoration activities and create a community stewardship group for the new park in View Royal.
Says Amanda, "I thoroughly enjoyed my time at GOERT this summer. I loved the diversity of work: doing inventories of rare plant species that few people get a chance to see in their lifetimes, talking with and learning from some of the most knowledgeable and passionate people working in the field of ecological restoration, and gaining invaluable practical field work experience was, I think, much more than what a usual co-op position would offer! My interest in ecological restoration has been sparked and I hope to continue on this journey for a long time."
Dawn Fizzard recently returned to school to complete her Bachelor of Arts degree in Environmental Studies and Geography after six years as an environmental educator and interpreter. Over the summer, Dawn took the Bring Back the Bluebirds project to a whole new level. She created community outreach materials and updated monitoring information for our volunteer stewards, while working with landowners and conservation partners to build bluebird nestboxes and place them in suitable habitat in time for the Western Bluebird re-introduction next spring. She is continuing with us part-time through the fall.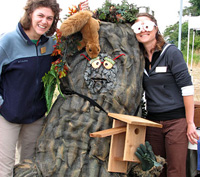 "I'm grateful for this opportunity, which has provided me with a much finer understanding of conservation practice. It's been a pleasure to work with GOERT staff on the bluebird project, and the wider GOERT community on various conservation issues. I've been places, seen and participated in things that I would never have otherwise. Coming in I thought I knew a lot about our Garry Oak ecosystems, but there is so much more to learn!"
These internships were made possible through the UVic Co-op Program; and funding from Parks Canada Agency, the Government of Canada through the Federal Department of the Environment, the Town of View Royal, and the Canada Summer Jobs program.