A Bluebird Summer: Bringing Western Bluebirds back to Southeastern Vancouver Island
posted Wednesday, July 25, 2012
By Julia Daly, Bring Back the Bluebirds Project Technician, July 17, 2012
Photos by Julia unless otherwise indicated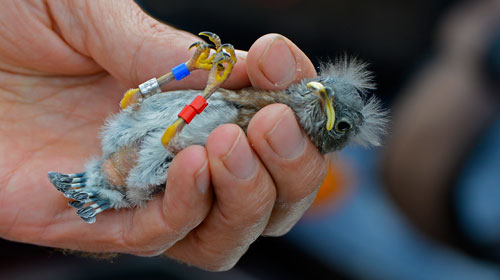 When asked to write a "week in the life" article that described my experiences as a field technician working on the pilot year of a five-year Western Bluebird (Sialia mexicana) re-introduction project, I thought to myself, how can I generalize all I've seen and done over the past six weeks into one "typical" week, when each day brings so many personal firsts? On my first day of work, for example, I got to see live Western Bluebirds for the very first time—an entire family of them! Little did I know that these same birds would later choose to remain at their release site and produce another clutch! As I write this, four newly hatched bluebird chicks are nestled inside a bluebird box in the Cowichan Valley. They are the first Western Bluebirds known to have hatched on Vancouver Island in 17 years.
In the 1950s, Western Bluebird numbers in southwestern British Columbia (the northern extent of their former range) began to decline, a trend that continued until the mid 1990s when the last breeding activity on Vancouver Island was recorded. Compounding pressures, such as wide-scale commercial and residential development, the removal of dead wood from habitat, pesticide use, long-term wildfire suppression, and the introduction of exotic invasive species, such as European Starlings (Sturnus vulgaris), House Sparrows (Passer domesticus), and domestic cats appear to be the main drivers of this loss.
We're hopeful that Western Bluebirds will rebuild a population in this area through our ecosystem recovery program that combines the physical relocation of Western Bluebirds, habitat restoration, and the building of "bluebird trails" of nestboxes placed in suitable habitat throughout the region. The first phase of this international project re-introduced a breeding population of Western Bluebirds to the San Juan Islands, where they hadn't nested since the 1930s.
My experiences working with this incredibly adaptable and undeniably beautiful species, and the many people who are working to help them, have given me hope that the songbirds will soon return to southwestern BC for the long term. In this pilot season, 17 Western Bluebirds (8 adults, 9 juveniles) were captured from Joint Base Lewis-McChord military base in Washington State, which contains one of the largest remaining tracts of Garry Oak habitat in northeastern Washington, and relocated to the Cowichan Valley. At least one of the four relocated adult pairs has produced young here, which is the news of the summer! Our goal is to release at least 90 adult Western Bluebirds in the area by the year 2016. Here are some of the highlights, quirks and things I've learned through my job as the "Bring Back the Bluebirds" Project Technician…so far.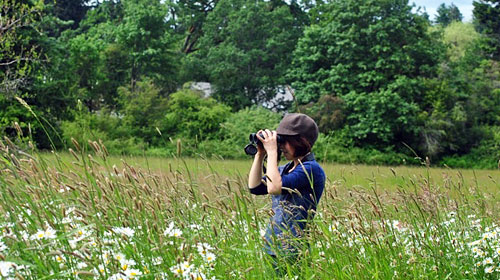 June 4th
I arrived in the Cowichan Valley for my first day of work and was greeted by the site manager at Cowichan Garry Oak Preserve (CGOP), Irvin Banman, who guided me on a tour of the native plant nursery that he manages on site, which specializes in the propagation of species associated with Garry Oak ecosystems. Soon we were met by Trudy Chatwin, a Rare and Endangered Species Biologist for BC the Ministry of Environment, and together we surveyed 26 nestboxes in the area. We recorded many Tree and Violet-green Swallow nests and a few House Wren nests. I learned about House Wren "dummy nest" building behaviour—fascinating, but it does create extra work for the technician. In the evening, GOERT Conservation Specialist Kathryn Martell and Gary Slater of Ecostudies Institute arrived with the first family of bluebirds translocated from Washington State.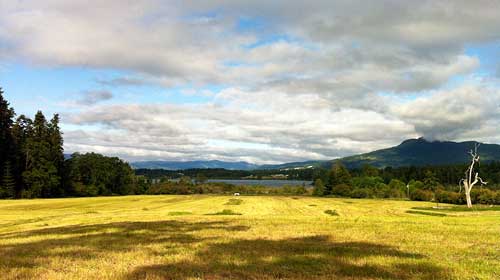 June 5-6th
I traveled to Fort Lewis, Washington with Gary, who coordinates the translocation component of the project. In the early morning of June 6th we drove to Joint Base Lewis-McChord to capture a family of bluebirds at a known location (where breeding activity had been observed). When we arrived at the capture site, the sun was just coming up over the horizon, lighting up the Garry Oak meadow full of dry grasses and blooming Deltoid Balsamroot (Balsamorhiza deltoidea) into a gleaming sea of gold and yellow. I couldn't gaze at the landscape for long, however, as moments later we were quickly setting up mist nets around a Garry Oak tree bearing the nestbox of a family of seven Western Bluebirds (an adult pair in their second year of life and their five 12 day old chicks). Within 45 minutes, we had successfully captured the adult pair and their nestlings for banding. Once they had been banded and their border-crossing paperwork signed, we proceeded on our drive and ferry ride back to the Cowichan Valley. After 12 hours of nearly continuous cheeping, hand-feeding and fecal sac removal during the trip back, we arrived back in the Cowichan Valley. My ears were ringing, but my heart beamed for the bluebird family and their potential establishment on Vancouver Island.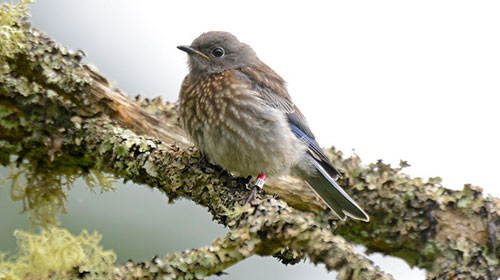 June 6th
The two bluebird families were held in aviaries until the young fledged from the nestboxes (about one week). How I treasured my early morning and evening visits to the aviaries to feed and check up on them! Through a tiny crack above the door on the only walled side of the aviary (the other 3 sides are wire mesh) I was able to peer in and watch their activities undetected. Sometimes I would close my eyes and listen to their subtle sounds—soft and content sounding "chips" and "peeps" against a backdrop of a gentle summer wind. At other times I worked on surveying for the four bluebirds that had already been released and monitoring and cleaning out the contents of other nestboxes throughout the region. I enjoyed learning about the unique sets of nesting materials used by the different cavity nesters I encountered, and the colour and size variation of each species' eggs.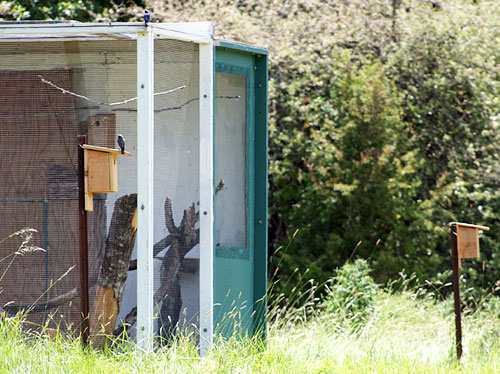 June 11th
Today was release day for the (first) family of six Western Bluebirds that arrived at CGOP on June 4th. They took their time flying out of the aviary (over 6 hours), but wasted no time in producing more offspring once they made their way out! The adult pair began searching for another nesting site almost immediately. Over the next couple of days I saw them defending several nestboxes near the aviary. At first they seemed fixated on securing a nestbox already occupied by a family of Tree Swallows! Eventually they settled on a nestbox that we hastily erected in the same area, which not only had a spectacular view, but also had a reliable food supply within 10 meters (mealworms that we provided). Made perfect sense to me.
June 17th
I found a tidy nest made of fine dry grasses in their nestbox!
June 20th
Wow, what amazing hovering skills! Today I saw one of the adult females hovering above the ground for several seconds to home in on an insect in the grass. Finally she pounced and caught the winged bug in her bill!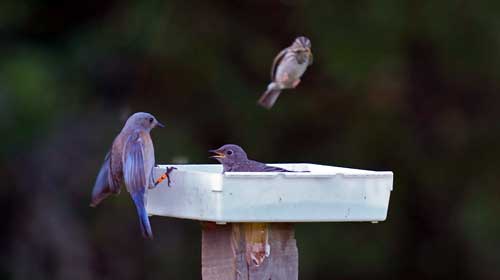 June 25th
I peeked inside the nestbox and found four beautiful blue eggs that became a clutch of five by June 27th.
June 29th
The adult male is seen delivering mouthfuls of food to his mate inside their nestbox. She must be incubating her eggs!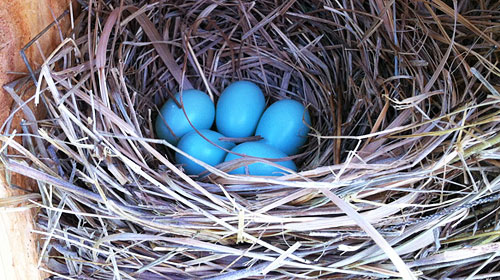 July 4th
The family of bluebirds at CGOP seems healthy, except I fear that one of the four juveniles (a female) may have died, as I did a survey of all the leg bands on June 26th and could only confirm five birds. I am going to get the spotting scope out again tomorrow morning at feeding time to firm up those results, as it should be a clear sunny day here.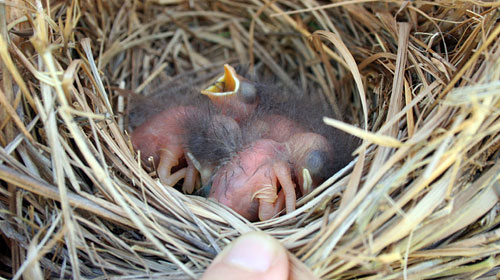 July 9th
Four of the eggs have hatched! Ninety percent of their body mass will be reached by 10–11 days of age. They develop so fast! All this time, I've been watching the juveniles from the first brood learning to hunt, and today I witnessed them hunting for wild insects on their own at 36 days old.
July 3-17th
I've been busy monitoring the progress of the family of bluebirds that has remained at their release site (the adult pair with the three surviving fledged young and four two-week-old chicks); surveying for the other 11 bluebirds that have been released; installing, monitoring and cleaning out nestboxes that have been installed in the Cowichan Valley; meeting with local landowners that are interested in or already hosting bluebird nestboxes; and collaborating with the Cowichan Tribes First Nation to share knowledge of Western Bluebird ecology and management.
I have rigged up a new transportation system—I've managed to find a blue crate to go with my already blue helmet and bike! I can hold up to 3 nestboxes and all my tools in the crate and other materials in my backpack. So far I've found cycling to be a better way of surveying than with a car because I don't have to start and stop a vehicle over and over and can listen and scan more slowly for the birds.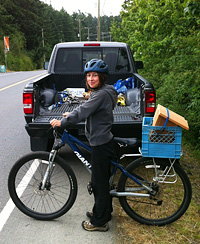 I've seen, felt and learned so much over the past six weeks, and I'm certain the next month and a half will be just as memorable. Soon some of the translocated bluebirds may embark on a short–distance migration southwards into the northwestern US to overwinter. I hope to see them back here for their next breeding season.
However adaptable Western Bluebirds seem to be to our ever-increasing presence and impact on the landscape, they are certainly not immune. We have already lost Western Bluebirds on Vancouver Island once before. Bringing them back goes hand in hand with a commitment to retain what we still have of their habitat, and to restore even more; it's a leap of faith that we as stewards of the land are ready, this time, to care for the Western Bluebird and other species depending on Garry Oak and associated ecosystems. We're off to a good start. Let's keep the momentum going.
For more about the Bring Back the Bluebirds project, please see www.goert.ca/bluebird, or follow our progress on facebook.