Nestbox Stewardship Program
A primary component of restoring a Western Bluebird population is ensuring that there are enough safe nesting sites. We are replacing missing natural cavities–which have disappeared as large, old trees have been removed or have fallen–with nestboxes specifically designed for bluebirds. Throughout North America, bluebird populations have recovered with nestbox stewardship programs initiated and managed by dedicated volunteers and land managers.
Suitable Nestbox Habitat
Western Bluebirds thrive in open meadows and grasslands with scattered oak trees.
Suitable habitat for Western Bluebirds includes open rural areas with low perches and cavities (or boxes) for nesting, safe from cats and invasive English House Sparrows and European Starlings. Hay fields, pastureland, and areas with mown or open ground, such as vineyards or cemetaries, are excellent bluebird habitat if they are pesticide-free and have fencelines or scattered oak trees for perching. The addition of some carefully monitored and maintained nestboxes might make an area like this perfect for bluebirds!
Host a Nestbox
Do you have habitat like this? If so, we may be interested in placing nestboxes on your property. Our project focal area is in the Cowichan Valley, but we also occasionally work with landowner nestbox hosts in Metchosin and Central Saanich, where an expanding bluebird population may establish in the future. Our partners work with landowners on the Gulf Islands. To learn more about being a nestbox host, read our Nestbox host FAQs (PDF).
This is how our nestbox program works: we provide and mount the nestboxes, and work with landowners to track the use and success of nestboxes over time, building our knowledge about Western Bluebird habitat use and population growth. The Nestbox site selection (2MB PDF) and Nestbox placement and mounting (1MB PDF) documents will help you to determine whether or not your property is suitable for bluebirds.
These nestboxes are also used by other native cavity-nesting birds, such as Tree Swallows, Violet-green Swallows, Chestnut-backed Chickadees, House Wrens, and Bewick's Wrens. The information we gather about individual nestboxes helps us to learn how to better place and maintain this critical habitat element for native cavity-nesting birds. If you prefer not to monitor the nestboxes, there is an option to have volunteer stewards do the monitoring.
If you'd like to build and mount your own nestboxes without being part of our structured project, it's very important that your boxes be properly built and mounted in suitable locations. First, please read "nestbox site selection" (above), and use the plans for building nestboxes given below. The "nestbox placement and mounting" instructions will help you to mount your nestboxes properly and in appropriate places. Please also read the section on Nestbox Monitoring (below); nestboxes that are not being monitored or maintained may make native birds using them vulnerable to predators, wind and rain, and other threats.
Check out this great description of Features of a Good Birdhouse (external website) by the Cornell Lab of Ornithology's NestWatch program.
Nestbox Monitoring
Our nestbox hosts monitor the boxes on their property for bird activity during bluebird season (February through September), 1–2 times per month (more often if bluebirds are found), and report back to us. Training and support are provided.
Some of your activities would be:
Checking nestboxes on a regular basis during bluebird season
Recording observations and notifying us if you see bluebirds
Notifying us immediately if you see House Sparrows using the nestboxes
Cleaning out nestboxes at the end of the season
Communicating with us about findings
The following documents help with nestbox monitoring:
Take our quiz (external website) to test your new nest ID skills.
Protecting Nesting Bluebirds
It is critical that nestboxes be monitored regularly throughout the breeding season to ensure that they are not being used by exotic House Sparrows. Non-native and invasive, English House Sparrows compete aggressively against native birds for nesting cavities. They will harass, attack, and kill adult native birds when competing for nest sites, and destroy their eggs and young. They also overwhelm birdfeeders, driving native birds away.
For more information about House Sparrows, their impacts, and how to identify them: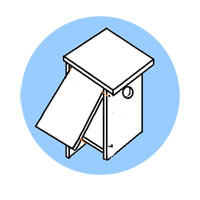 Build a Nestbox
Are you handy with a hammer? Would you like to build a nestbox for us? If so, download the nestbox plans here. Please work with us to place the nestbox in suitable habitat. Placing a nestbox in unsuitable habitat could be harmful to Western Bluebirds or other native birds.