Bicycles for Bluebirds Raffle April 2011
posted Thursday, January 27, 2011
by Lisa Dumoulin
With spring approaching, a great way to get outside and enjoy the blossoming of our beautiful local ecosystems is to tour the area by bike. Riding on southeast Vancouver Island or the Gulf Islands (staying on designated trails, of course!), you are bound to pass remnant Garry Oak and associated ecosystems bursting into colour. Some things to look for on your outings are the blue blooms of Great and Common Camas, gnarly budding Garry Oaks, Fawn and Chocolate Lilies and the flashing green of Anna's Hummingbirds.
Thirty years ago, you might also have spotted Western Bluebirds. Now, however, Western Bluebirds are considered extirpated from our area — rarely sighted and no longer breeding in their former territories due to habitat destruction and other factors.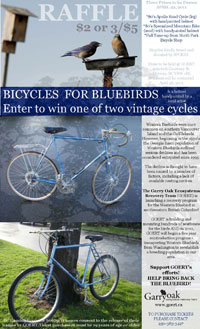 This spring, the Garry Oak Ecosystems Recovery Team is raffling two bicycles to raise funds to help recover the Western Bluebird to its former range around southeastern Vancouver Island and the southern Gulf Islands. Both bicycles (vintage 80s cycles!) were fully tuned and donated to GOERT by SPOKES and are each being raffled with a Bell Faction helmet, hand painted by local artist Elyse Portal (nee Parchoma). The bikes are 1) a large Apollo Road Cycle, complete with its original working cycling computer, and 2) a medium Specialized Stumpjumper, one of the first mountain bikes to be produced! Both bikes are bluebird blue and in mint condition. Each prize set of a bike and helmet is worth over $350. In addition to the two grand prizes of a new bike and helmet, North Park Bicycle Shop has donated a full-tune up (~$75) as third prize.
Raffle tickets are being sold by GOERT staff and volunteers for $2 each or 3 for $5. Tickets can be purchased directly from staff and volunteers at various community events this spring until April 22nd, 2011 (EARTH DAY), when the final draw will be held. Winners will be announced and contacted Tuesday April 26, 2011. Tickets can also be purchased by phone (250-383-3427) or email. If you will be hosting an event between now and Earth Day, please let us know if we can sell our raffle tickets at your event.

Volunteers Needed
As part of the bluebird project, we have dozens of wooden Bluebird nestboxes in our office that have been built by children. We need a volunteer who would like to donate some hands-on work to fix up some of the boxes and store them for a few months until they can be mounted in suitable Bluebird habitat. Please contact us to volunteer your services. Thank you!
For more about our Western Bluebird re-introduction project, see Bring Back the Bluebirds.
Update: See the winners here.