GOERT members attend bioregional conference
posted Thursday, August 5, 2010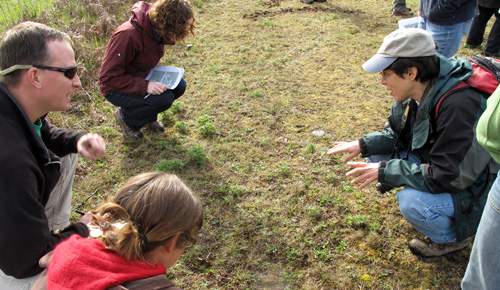 Photos by Shyanne Smith
A large delegation of GOERT members traveled to Washington State in March 2010 for the Northwest Scientific Association and Cascadia Prairie Oak Partnership ('CPOP') 2010 Joint Meeting. With more than 100 oral presentations and an additional 40 posters, the diversity and breadth of topics presented as well as the high quality of presentations was impressive. The state-of-the-art new science facility at Centralia College lent a sophisticated air to the event, plenary and banquet speakers were informative and provocative, and field trips were favoured with clear and warm weather. Perhaps most importantly, over 250 colleagues from throughout the Pacific Northwest came together to hear about each others' work, share lessons learned, and collaborate on future challenges.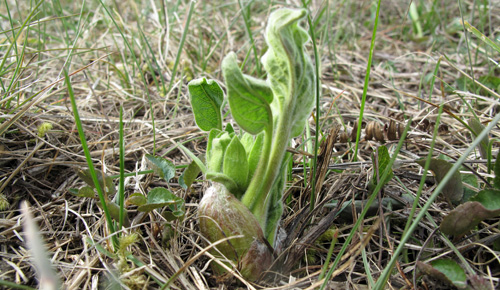 The meeting theme "From Mount St. Helen's to Oak-Prairie Lowlands: Disturbances, Biological Legacies, and Conservation" was apparent in all symposia and technical session topics. Researchers from Mount St. Helens were present to share the lessons learned in the 30 years since eruption. The Prairie-oak system was extremely well represented, with eight full dedicated sessions and topics ranging from restoration to protection to wildlife. The event also provided opportunity for Northwest Lichenologists to get together, which even resulted in a newly recorded rare lichen at Mima Mounds.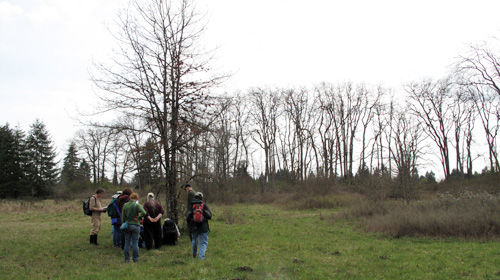 Shyanne Smith, Brian Reader, Mike Meagher, Raj Prasad, Tracy Cornforth, James Miskelly, David Clements, Nick Page, Patrick Lilley, and Fred Hook attended from GOERT. Fred gave a presentation on plant propagation, Raj had a poster on invasive weeds, GOERT had a poster about the Recovery Team, Shyanne gave a presentation Garry oak stand history in BC, James and Tracy gave a presentation on restoration activities at Rocky Point, David presented techniques to promote oak seedling survival, and Nick and Patrick presented a poster on Taylor's checkerspot butterflies.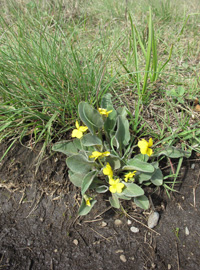 GOERT members participated in the lunchtime CPOP meeting where they discussed the future of this fledgling group. There is talk of setting up a bioregional listserve that would amalgamate three existing listserves: GOERT's 'goerecovery', South Puget Sound, and Oregon oaks listserves. It is hoped that another Cascadia Prairie Oak Partnership conference will be held in two years.
The field trips were excellent — the new lichen was found in one trip, and participants visited a variety of Garry oak ecosystem sites: deltoid balsamroot was observed growing in profusion along with yellow montane violet, Kincaid's lupine (extirpated here) was seen scattered in a farm field, and thin-leaved peavine (Lathyrus holochlorus), which doesn't grow here, was observed.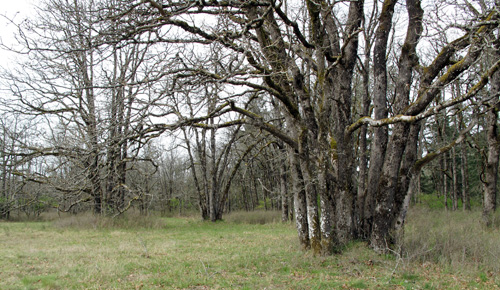 We look forward to capitalizing on the momentum generated at this event and future collaborations between the Northwest Scientific Association and Cascadia Prairie-Oak Partnership. Big thanks to Hannah Anderson of the Cascadia Prairie-Oak Partnership and Pat Pringle, President of the Northwest Scientific Association, for their excellent work organizing this event and to the Northwest Scientific Association and Centralia College for hosting.
You can download the full conference program at:
http://southsoundprairies.org/documents/NWSA_CPOP_Program.pdf