First Bluebirds of Spring Released in Cowichan Valley
posted Monday, April 8, 2013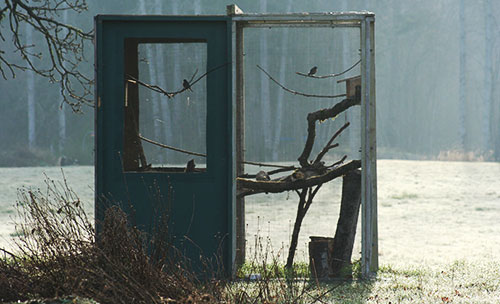 For Immediate Release: April 8, 2013
Duncan, BC – First Bluebirds of Spring Released in Cowichan Valley
Year two of the Bring Back the Bluebirds Project is underway, with three pairs of Western Bluebirds slated to be released today or tomorrow from aviaries in the Somenos-Quamichan Lake area. In March, the birds were brought from Washington State and, after a temporary holding period, are being released into the wild to find suitable nesting locations. This year, the project plans to translocate 10 pairs of bluebirds in total, some of them with nestlings. Three more pairs are scheduled to arrive later this week. If the birds nest and raise young successfully this summer and return to the Cowichan Valley next spring, they will be a critical foundation for re-building a local bluebird population.
Meanwhile, followers of the project are on the look-out for the bluebirds that were translocated to the Cowichan Valley last year, which may be returning to Vancouver Island on their own after having migrated south for the winter. Last year one pair successfully nested and raised four young—the first Western Bluebirds known to have hatched on Vancouver Island since 1995.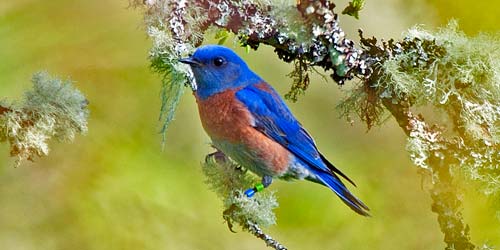 Cowichan Valley residents are asked to watch for bluebirds and report sightings immediately. Western Bluebirds are smaller than a robin; males have bright blue head, wings, and back, with rust-orange on the breast and parts of the upper back. Females are less brightly coloured. It is helpful to take a photo and make note of the four coloured leg bands that the birds may be wearing (two on each leg).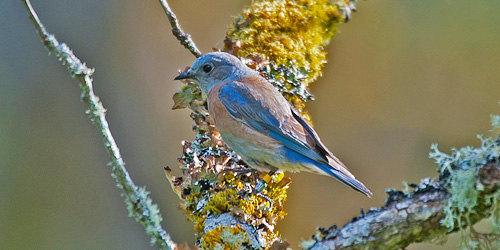 Project technician Julia Daly monitors the birds regularly for health and signs of breeding activity. "One female has shown interest in the nestbox inside the aviary, poking her head inside every 10 minutes or so. The male peeks into the nestbox as well, but less frequently. On the weekend, the birds were very relaxed and perched close to one another on a high branch, soaking in the warm sun rays together for most of my 40-minute observation period." This interest in nestboxes is a good sign that the birds are getting ready to breed.
The five-year Bring Back the Bluebirds Project, led by the Garry Oak Ecosystems Recovery Team, with partners Ecostudies Institute, the Province of BC, Nature Conservancy of Canada, and Cowichan Valley Naturalists, aims to re-establish a self-sustaining breeding population on southeastern Vancouver Island and the southern Gulf Islands.
Western Bluebirds are one of more than 100 species at risk in Garry Oak and associated ecosystems. Once common on Vancouver Island and the southern Gulf Islands, their population began to decline in the 1950s. Since 1995, they had not been known to nest successfully in this region (until last year's project success), and are considered extirpated (locally extinct). One reason for their disappearance is a lack of available nesting cavities due to loss of Garry Oak habitat, removal of standing dead trees, and competition with alien invasive birds: European Starlings and House Sparrows. Western Bluebirds are secondary cavity nesters, meaning that they cannot build their own nest cavities, and depend on old woodpecker cavities, natural holes in trees, or nestboxes.
Funders for year two of the project include: the Baillie Fund, Vancouver Foundation, TD Friends of the Environment, Habitat Conservation Trust Foundation, Government of Canada, Canadian Wildlife Federation, and private donors.
The public is asked to report possible bluebird sightings to bluebird@goert.ca or 250-383-3427. To learn more about and support the Bring Back the Bluebirds Project, please see www.goert.ca/bluebird.
Download the pdf version (PDF 327KB)
Media Contact
Carolyn Masson, Communications Coordinator
Garry Oak Ecosystems Recovery Team (GOERT)
250-383-3427 | info@goert.ca