$10,000 Donation to Bring Western Bluebirds Back to the Islands!
posted Wednesday, March 14, 2012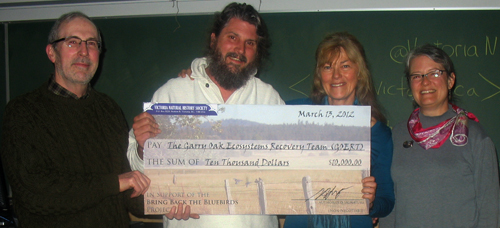 —Media Release—March 14, 2012—Victoria, BC
Do you remember Western Bluebirds?
Members of the Victoria Natural History Society do. At their Annual General Meeting last night, they presented the Garry Oak Ecosystems Recovery Team (GOERT) with a $10,000 cheque to help bring these birds back to Vancouver Island and the Gulf Islands.
These native songbirds once thrived in our local Garry Oak ecosystems but have gradually disappeared, and are now considered extirpated (locally extinct). Western Bluebirds are one of more than 100 species at risk in Garry Oak and associated ecosystems.
Partners in the Bring Back the Bluebirds project have been putting up nestboxes in suitable habitat for several years. However, experts tell us that we need a re-introduction to jumpstart the population, as the birds are unlikely to re-establish on their own. Building on the success of a five-year re-introduction program on neighbouring San Juan Island, we are ready to have Dr. Gary Slater bring pairs of Western Bluebirds from healthy populations in Fort Lewis, Washington, to sites in our area. We have been getting permits and volunteers ready to go, but are still lacking in funds to bring the birds here. Shyanne Smith, GOERT Executive Director, says "This donation from the Victoria Natural History Society is critical to this project going ahead. We desperately need funds to pay for the costs of moving and looking after these birds, and this donation will go a long way toward making this happen."
About Western Bluebirds
Biologist Trudy Chatwin says, "In May 1989, when my twins were four years old, we watched Western Bluebirds nesting in a beautiful Garry Oak meadow on Mt. Tzuhalem, near Duncan. Since 1995, however, the local population of Western Bluebirds has not been known to nest in BC. I would like to help restore nesting populations of this important and beautiful bird so that my daughter Heather, a leader of the Victoria Young Naturalists' Club, can inspire others with the thought that they can be a part of restoring nature, and that they too can watch Western Bluebirds at their nests."
You can help, too!
To donate to this exciting project, go here (choose 'bluebird project'). Another way to support the Bring Back the Bluebirds project is to buy raffle tickets! The prize is a beautiful silver brooch crafted by Stuart Duncan, valued at $300. It features a bluebird sitting on an oak branch, with a blue lapis lazuli stone. Only a small number of tickets were printed, so odds of winning are 1 in 450! Tickets are $2 each or three for $5. Come by the GOERT office or contact Betsy Rose (250-383-3447) for tickets. Raffle ends April 27th, 2012.
For more about the bluebird project, please see this related story.