Meet our summer interns
posted Friday, July 30, 2010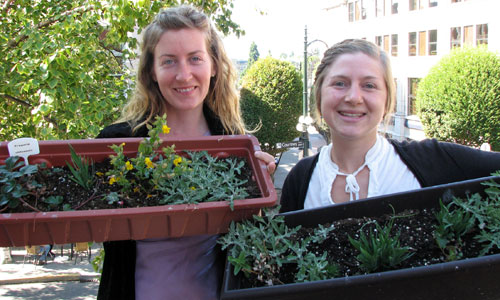 No one can say that our summer interns aren't having fun at their jobs! In addition to participating in ecological surveys and restoration, representing GOERT at outreach events, working on the bluebird project, and tending our rooftop native plant garden, GOERT's 2010 interns Lisa Dumoulin and Elyse Parchoma have recently taken up modeling some of GOERT's promo items — oak t-shirts, silver jewellery and eco-friendly tote bags. To shop for the items, please see www.goert.ca/gifts.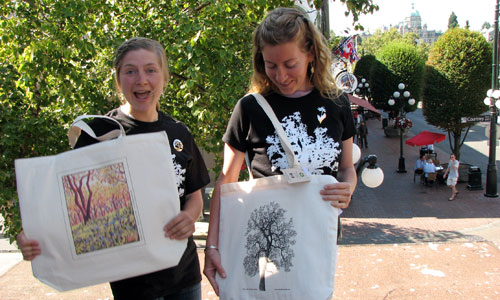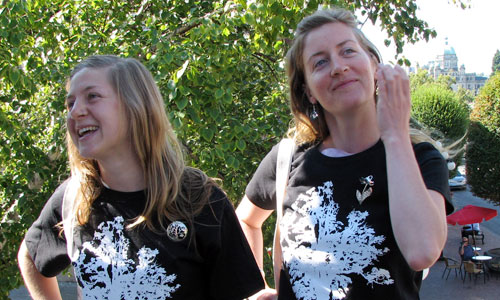 Elyse's activities range from gaining a comprehensive understanding of the bluebird project, enlisting volunteer support, grant writing, photography, and permit research, to coordinating with various partners. With this experience, Elyse intends to continue to support local ecosystems through volunteer efforts and other future prospects.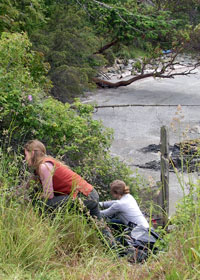 Lisa is currently completing her BSc in biology at the University of Victoria. She focused her studies in ecology and approached GOERT for an internship in order to pursue her interests in ecology, environmental policy and conservation. Lisa has taken over some tasks for Kersti Vaino, our staff member who has taken a leave of absence for the summer, and has been busy completing landholder contact reports, visiting sites to assist in surveys and restoration activities, and doing community outreach at a number of events. She will continue with GOERT until October of this year.
Over the next couple of months, Lisa is looking forward to working on the invasive species field manual and assisting Elyse with upcoming bluebird nestbox building workshops. She is also thrilled about two weeks of upcoming restoration work on Trial Island.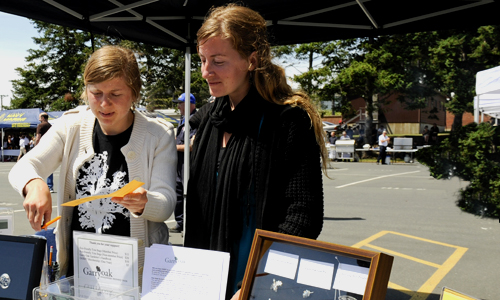 Read more about the Bring Back the Bluebirds project.
These internships were made possible through funding from the Canada Summer Jobs Program and the The Youth Eco Internship Program.