Conservation partners to re-introduce lost species to southern Vancouver Island
posted Thursday, May 3, 2012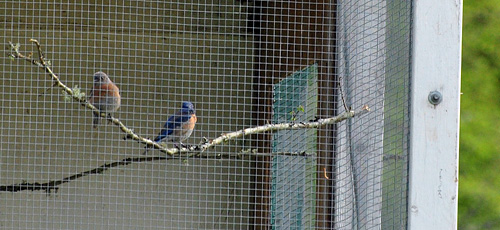 News Release—May 1, 2012—Duncan, BC
Bringing Back the Bluebirds:
Conservation partners to re-introduce lost species to southern Vancouver Island
Love is in the air this spring at the Nature Conservancy of Canada's Cowichan Garry Oak Preserve in Maple Bay. Two pairs of Western Bluebirds are making their home at the preserve for the first time since the species disappeared from Southern Vancouver Island and the Gulf Islands in the 1990s.
A consortium of partners has been working for over six years to re-introduce this Garry Oak ecosystem-dependent species to the Georgia Basin. The Garry Oak Ecosystems Recovery Team (GOERT), Cowichan Valley Naturalists, Ecostudies Institute, Nature Conservancy of Canada (NCC), Province of BC, Salt Spring Island Conservancy, and the Victoria Natural History Society have contributed their skills and resources to the Bring Back the Bluebirds Project.
"GOERT and our partners have been placing nestboxes in suitable habitat throughout the region and building support for species recovery," says Trudy Chatwin, Chair of GOERT's Vertebrates at Risk group and a Provincial Species-at-Risk Biologist. "NCC's beautiful Cowichan Garry Oak Preserve is an excellent site for this first release. The extensive restoration work has improved habitat for several rare species, and bluebirds are no exception."
No nesting pairs of Western Bluebirds have been documented on Vancouver Island or the Gulf Islands since 1995, likely due to habitat loss and competition for nesting cavities from introduced species such as the European Starling and English House Sparrow. Over the next 5 years, the Bring Back the Bluebirds Project will translocate up to 90 Western Bluebirds to rebuild a regional population.
"We have wanted to bring back the Western Bluebird to the Cowichan Garry Oak Preserve since the day we purchased it 11 years ago," said Tim Ennis, the Nature Conservancy of Canada's West Coast program manager. "We are thrilled to be a part of the team making this re-introduction a reality."
After the birds have acclimatized in temporary aviaries, they will be released, and it is hoped that they will raise their young in one of the many nestboxes that have been provided on the preserve or in nearby suitable habitat.
Public event will allow visitors to view birds in their aviary
Bird and nature lovers are encouraged to come out to IN BLOOM, a public open house at the Cowichan Garry Oak Preserve on Saturday May 5th, from 10am to 1pm. Visitors will be able to view these birds through a spotting scope and learn about what they can do to help bring Western Bluebirds back to Vancouver Island and the Gulf Islands.
IN BLOOM is a free annual event that features guided tours of the preserve. To attend, come to Cowichan Garry Oak Preserve, 1241 Maple Bay Road, Duncan. Please park on Maple Bay Road and then walk down Aitken Road to meet at the gate at the end.
More information about IN BLOOM (or call Irvin Banman at 250-748-7124).
Learn more about and support GOERT's Bring Back the Bluebirds Project.
We thank our funders for the first year of the project: North American Bluebird Society, Southern Interior Bluebird Trail Society, Victoria Natural History Society, and private donors.
Additional project partners: Rocky Point Bird Observatory, San Juan Preservation Trust, American Bird Conservancy, Fort Lewis-McChord Military Reserve (Jim Lynch), and Dr. Karen Wolf of Point Defiance Zoo and Aquarium.