Bluebirds Released in Cowichan Valley!
posted Friday, May 11, 2012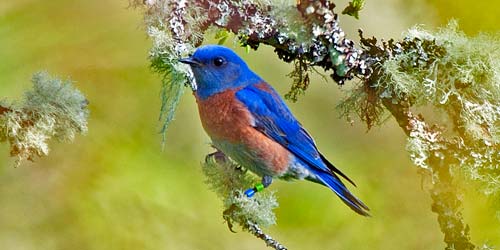 Bluebirds cross border with permits, hopes for future
In late April 2012, two pairs of extirpated Western Bluebirds were seen crossing the US-Canada border with all their paperwork in place, pioneers in creating a restored population in Canada. Their arrival at the Nature Conservancy of Canada's Cowichan Garry Oak Preserve (CGOP) near Duncan is the culmination of more than six years of hard work by partners in the Bring Back the Bluebirds project. "After the birds have acclimatized in temporary aviaries, they will be released," says Irvin Banman, site manager at CGOP. "We've placed nestboxes on the preserve and in nearby suitable habitat, and we hope that the birds will raise their young in them and return next year."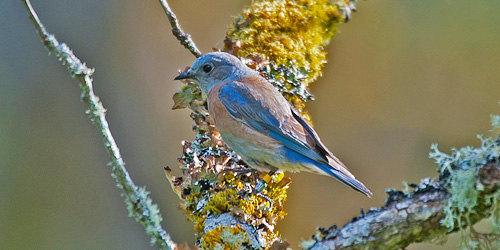 A Sad History
No nesting pairs of Western Bluebirds have been documented on Vancouver Island or the Gulf Islands since 1995, likely due to Garry Oak habitat loss and competition for nesting cavities from introduced species such as European Starlings and English House Sparrows. In BC, this population is considered Red-listed and Extirpated.
A Brighter Future
Bring Back the Bluebirds is part of an international project to rebuild a regional population in the Salish Sea area. "We are following the same methods we used when we re-introduced a population on San Juan Island," says Gary Slater of Ecostudies Institute, bluebird expert and technical project lead. "Over the next 5 years, we'll be translocating 90 adult Western Bluebirds from a healthy population in Washington to Vancouver Island and the Gulf Islands."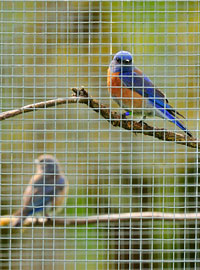 "The Garry Oak Ecosystems Recovery Team (GOERT) and their project partners have been placing nestboxes in suitable habitat throughout the region and building support for species recovery," says Trudy Chatwin, Chair of GOERT's Vertebrates at Risk working group and a Provincial Species-at-Risk Biologist. "We're thrilled to have such a beautiful host site for our pilot year. The extensive restoration work that the Nature Conservancy of Canada has done at this site has improved habitat for several rare species, and bluebirds are no exception."
Bluebirds released in the Cowichan Valley!
To kick off our 5-year project, on May 8 and 10, 2012, we released two pairs of Western Bluebirds at Cowichan Garry Oak Preserve near Duncan, BC. The pair released on May 8 flew towards the north and we have had no confirmed sightings of them, but the pair released on May 10 stayed at the preserve overnight (see our facebook page for updates).
"The pair had started making a nest in the nestbox within the aviary the day before,  demonstrating their interest in establishing a nest site. The birds were very calm, and after we opened the aviary, the male flew up to an oak branch right above the aviary and posed there for a few minutes, before flying straight for a nestbox about 30 m away!" said Kathryn Martell, GOERT's Conservation Specialist.
"The female didn't leave the aviary for a while (she didn't want to abandon her partially built nest) but when she did, a few minutes later, she too headed straight for the nestbox and they fluttered excitedly around it, in and out, for quite a while. We all went quite a distance away so as not to disturb them, and just after we finished doing the media interviews, the birds came flitting around us at the parking area! It was very exciting to see them sitting on an oak branch near us. Unfortunately, we're told that even though they stayed on the land overnight, it's still quite likely they'll move on. But we are hopeful they'll stay at the preserve," Martell added.
How you can help
Watch for bluebirds
Please help us watch for Western Bluebirds and contact us immediately if you think you see them: bluebird@goert.ca; 250-383-3427. Watch for their coloured leg bands and make note of the colours you see.
How to identify a Western Bluebird (thanks to San Juan Islands Western Bluebird Reintroduction Project)
Length: 5.5 inches (smaller than a robin)
Thin bill
Found in open habitat, pastureland, meadows, perched on fencelines
Adult male
Bright blue upperparts and throat
Brownish patch on back
Orange-red breast and sides
Grey belly and undertail coverts
Adult female
Blue wings and tail; duller colour than male
Grey crown and back
Eye ring
Grey throat
Brownish wash on breast and sides
Grey belly and undertail coverts
Make your yard safe for native birds
Providing nestboxes and other habitat elements is helpful only if you are not creating a "wildlife sink". Cats, dogs, grey squirrels, European Starlings, English House Sparrows, cowbirds, and other introduced animals can kill or out-compete the wildlife you are trying to attract. If your goal is to create a sanctuary for native wildlife, please take measures to prevent predation by non-native animals.
The nestboxes we use are designed to keep out starlings (the holes are too small for them), but we are unable to exclude House Sparrows because they're smaller than bluebirds, so we are careful to place nestboxes in areas free of House Sparrows, which can out-compete or kill bluebirds. Any nesting attempts by House Sparrows must be removed. Please contact us if you're not sure; we wouldn't want any harm to come to native birds.
Garden with native plants
"To feed the birds, first feed the bugs". The foundation of a healthy ecosystem is the native plants, which provide habitat for insects and other animals. Incorporating some native plants into your landscaping can help re-stitch the fabric of our local endangered ecosystems. Most birds feed their young with insects, so if you have a thriving insect population in your garden, you are providing a crucial food source for birds. See our Garry Oak Gardener's Handbook for inspiration, plant lists, and garden designs.
Host a nestbox
If you think you may have good bluebird habitat on your land, please contact us about hosting a nestbox. Suitable habitat for Western Bluebirds includes open rural areas with low perches (fencelines, shrubs, or oak trees), and a good location to mount a nestbox that is safe from cats and invasive English House Sparrows and European Starlings. Note: our focus this year is the Cowichan Valley and the Saanich Peninsula.
Donate
Please donate to the Bring Back the Bluebirds project online or contact us. It costs approximately $5000 per pair of birds, and we need another $10,000 for this year to translocate two families with their nestlings in June. Thanks to Victoria Natural History Society for their generous $10,000 donation, which allowed us to launch the project this year and bring the first two pairs of bluebirds.
Learn more about the project at our Bring Back the Bluebirds webpage, or by visiting our booth at Migratory Bird Day at Elk/Beaver Lake Regional Park Saturday May 12, 2012, 7am-2pm at the picnic shelter.