How to Restore Ecosystems on the Brink
posted Thursday, September 15, 2011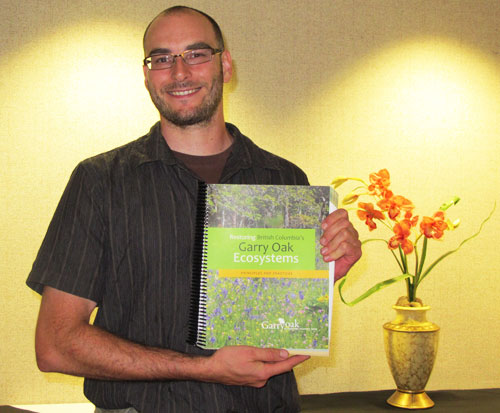 Victoria was built on what are now some of the rarest ecosystems in Canada. The Garry Oak Ecosystems Recovery Team (GOERT) is working to save the remnants of these—about one percent of the habitat is left in the Capital Regional District. GOERT released a landmark publication on Wednesday, September 14th to empower others to help restore this lost or damaged habitat. Four years in development, Restoring British Columbia's Garry Oak Ecosystems: principles and practices is the definitive guide to ecological restoration of some of Canada's rarest ecosystems.
Information has not been readily available on how to restore these ecosystems. Some information can be found in scientific journals, some in reports and unpublished documents, but much of it has been stored only in the minds of seasoned restoration practitioners—until now.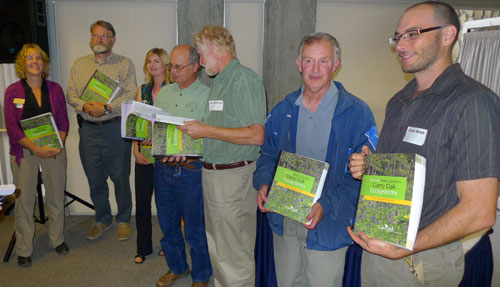 Conan Webb, Species at Risk Recovery Planner with Parks Canada Agency and one of the lead authors of this book says "I am really excited to see this product come to fruition after many years of dedicated work from so many contributors; I look forward to seeing the many restoration projects helped along by this easy to access free guide to restoring Garry Oak Ecosystems in BC."
This collaborative project led by experts on restoration and Garry Oak ecosystems pulls information together into an easy to read, technically accurate and definitive guide. The guide is available by FREE download from the GOERT website. There are a limited number of copies for sale at cost. Chapters in this resource cover all aspects of restoration, including how to assess and monitor a site, create a restoration plan, involve community, restore when species at risk are present, and deal with invasive species.
An afternoon workshop was held Wednesday September 14th at the University of Victoria to showcase the publication and discuss some of the key restoration topics. The workshop was followed by GOERT's Annual General Meeting, including a banquet and a talk by Dr. Rick Kool on the three Cs of restoration: Concern, Caring, and Connection.
David Trudel, GOERT member and Vice-President of Friends of Knockan Hill Park Society says, "The  event was informative and entertaining and I want to congratulate everyone responsible in putting it together. The venue was excellent, the food superb, and I left feeling that the small efforts I am making as a steward of Knockan Hill Park are part of a much larger whole. Great job everyone!"

"This publication is an amazing resource and we are incredibly excited to see our years of hard work come to fruition. Dozens of experts and agencies have come together and dedicated so much time to it," said Shyanne Smith, Program Manager for GOERT. "We've received incredible support and expertise from Parks Canada, who share our commitment to restoring Garry Oak ecosystems. Over the years, this project has also been supported by Vancity, CRD Environmental Sustainability, and the Government of Canada through the Federal Department of the Environment. Without all this support, this project couldn't have been completed."
In all of Canada, Garry Oak and associated ecosystems occur only on southeastern Vancouver Island (Victoria area to the Comox Valley), on the Gulf Islands, and in two isolated areas in the Fraser Valley. These ecosystems are a hotspot for biodiversity, with at least 1600 species of native plants and animals. Of these, more than 100 species have been assessed as either provincially rare or nationally at risk of extinction.
GOERT is a charitable organization dedicated to the recovery of Garry Oak and associated ecosystems in Canada and the species at risk that inhabit them. The team was formed in 1999 as a comprehensive partnership of experts affiliated with all levels of government, non-governmental organizations, academic institutions, First Nations, volunteers and consultants. In 2007, the organization was incorporated as a non-profit society in BC and became a registered charity in Canada in 2009.