Propagation Guidelines:
Hooker's Onion
Allium acuminatum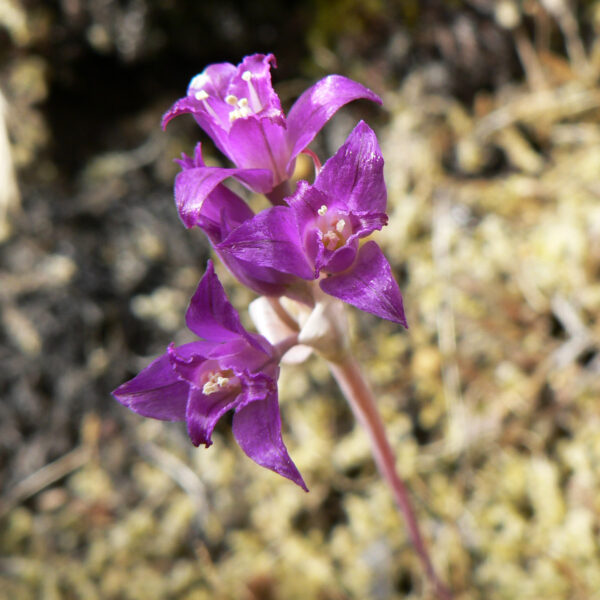 overview
A perennial herb from 10 to 30 cm in height. It grows from a small grey-brown, egg shaped bulb with a fibrous, net-like network on the surface, inner scales white. The 2-3 or more basal leaves are linear and cylindric, 1-3 mm wide and wither before the flowers appear. The flowers are rose coloured, parchment-like and stand erect. in upright umbels with 7-25 flowers and with 2 bracts under the umbel. Both the sepals and petals are fine pointed and curl outwards. The fruit is a capsule with 3 obscure ridges and black seeds. The entire plant smells and tastes of onion. Blooms from May to July. (Pojar and MacKinnon, 2004; Douglas et al, 2001). Photo by Chris Junck.
other names
family
ecological setting
Dry, rocky bluffs, Garry oak woodlands and meadows in the lowland and steppe zones (Douglas et al). Scattered on water shedding sites with shallow soils (Klinka et al).
soil texture
Rocky crevices and sandy soils (Turner).
nutrients
Nitrogen-medium shallow soils (Klnka et al).
moisture regime
Characteristic of moisture-deficient sites (Klinka et al) but also does well with some moisture if the soil is well-drained.
shade tolerance
Very shade intolerant (Klinka et al).
bec zone subzone status
Rocky bluffs in Garry oak ecosystems.
landscaping
Showy blooms with grass-like tufts. Does well in drifts or groups in the front border of a rockery. Also suitable for container planting.
first nations
The bulbs were eaten by several indigenous groups. They were eaten both raw and steamed in pits lined with pine boughs, covered with lichens and alder boughs (Turner, 1995).
flowering time
seed collection time
crop intervals
no seeds per kg
253,691 seeds/lb (Skinner)
collection and abstraction
Place dry flower heads in a paper bag and shake to dislodge seeds (Milne).
seed storage
Clean seed is stored in controlled conditions at 40 degrees Fahrenheit and 40% relative humidity (Skinner).
fruit seed dormancy treatment
Cool, moist stratification and cool growing conditions are needed. No seed germinated without pretreatment. 30 days of cool, moist stratification resulted in a few seeds germinating, but they did not survive in the greenhouse. High germination was obtained from seeds sown in flats and left outside under cool, fluctuating spring temperatures. Seedlings which germinated outside died when placed in the greenhouse (Skinner).
vegetative propagation
Method Success Rate Time of Collection Softwood cuttings n/a n/a Semi-hardwood cuttings n/a n/a Hardwood cuttings n/a n/a Root cuttings n/a n/a Suckers n/a n/a Plant division n/a n/a  
additional info and photos
For more information and pictures, visit the E-Flora BC website at www.eflora.bc.ca.