Propagation Guidelines:
Nodding Onion
Allium cernuum Rorh var. cernuum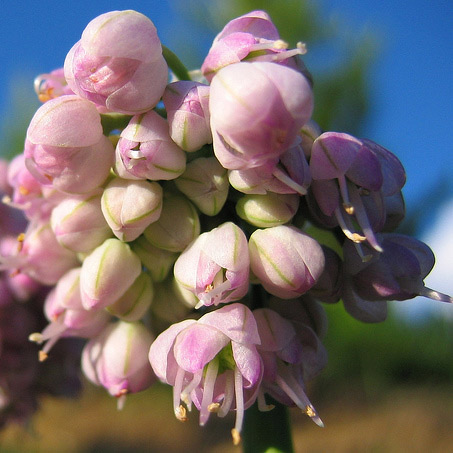 overview
Perennial 10-50 cm tall, growing from an oval or tapered bulb which smells strongly of onion. Basal, grass-like leaves stay green during flowering. Many pink, bell-shaped flowers form an umbrella shaped cluster which "nods" at the end of a leafless stem curved at the top. 3-lobed fruit capsules contain black seeds (Pojar and MacKinnon, 1994).
family
ecological setting
Dry open woods, exposed grassy places and rocky crevices at low elevations (Pojar and MacKinnon, 1994).
soil texture
Sandy, well drained soil.
nutrients
Nitrogen medium sites (Klinka et al., 1995).
soil reaction salinity
Neutral to slightly acid.
moisture regime
shade tolerance
successional status
Climax in dry open forests and on rocky outcrops. Occasional in early seral communities (Klinka et al., 1995).
bec zone subzone status
Plays an important ecological function.
site rehabilitation
Self-perpetuating ground cover. Hardy plant for exposed sites. Tolerates drought, wind and salt spray.
wildlife
This plant is attractive to bees, butterflies, hummingbirds and other birds (Industry Canada, 1998).
landscaping
Spring-flowering bulb suitable for areas receiving no summer irrigation. Showy long season bloomer. Good rockery plant or for front borders in a bed, spaced 15-30 cm apart. Attractive when mixed with harvest brodiaea (Bastin, personal communication).
first nations
Bulbs cooked and eaten by several coastal groups (Pojar and MacKinnon, 1994). The Makah and the Quinault chew the plant and put it on the chest for pleurisy pains (Gunther, 1973).
other uses
Journals of Lewis and Clark mention it as an article of food and commerce; also as a remedy for flatulence due to eating too much camas (Gunther, 1973).
flowering time
fruit ripening time
seed collection time
crop intervals
no seeds per kg
seed viability
collection and abstraction
Shake dried seed heads into collecting bag.
seed storage
Cool and dry. Can be stored at 3-5º C for up to 6 months (Flood, Horvath, and Blessman).
fruit seed dormancy treatment
Seeds can be cold stratified and then germinated at 10º C. Germination is equal in light and dark (Baskin, C.; Baskin, J., 2001). Best method of treatment is to sow fresh seeds outdoors in containers or flats soon after collection, and allow to dormancy to be broken naturally.
vegetative propagation
| Method | Success Rate | Time of Collection |
| --- | --- | --- |
| Softwood cuttings | n/a | n/a |
| Semi-hardwood cuttings | n/a | n/a |
| Hardwood cuttings | n/a | n/a |
| Root cuttings | n/a | n/a |
| Suckers | n/a | n/a |
| Plant division | Excellent. Divide bulb clusters in the late summer or early fall after flowering and transplant as soon as possible. | Anytime (best when not flowering). |
additional info and photos
For more information and pictures, visit the E-Flora BC website at www.eflora.bc.ca.