Propagation Guidelines:
Hairy Manzanita
Arctostaphylos columbiana Piper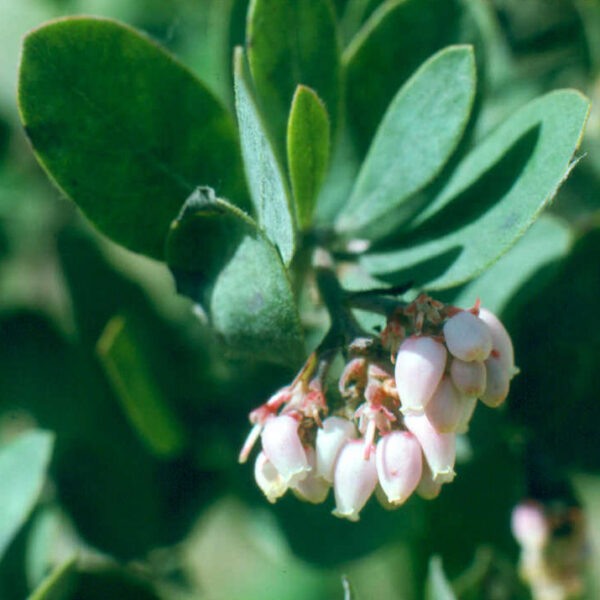 overview
Erect or spreading, bushy to single-stemmed, evergreen shrub up to 3 m tall. Young twigs and leaves are very hairy, while older branches have rich reddish-brown bark that flakes and peels. Leaves alternate, egg-to lance-shaped, 2-5 cm long, greyish-green in colour and hairy all over but particularly on the under surface. Flowers white to pink, urn-shaped, 6-7 mm long, produced in the spring in hairy clusters borne on the end of the branches. The fruit is a small (6-8 mm across), smooth, blackish-red spherical berry. Hybridizes with Arctostaphylos uva-ursi where their ranges overlap. Resulting hybrid, Arctostaphylos X mediahas intermediate characteristics (Pojar et al., 1994). Photo by Moralea Milne.
family
ecological setting
Dry sunny sites such as rock outcrops and rocky slopes. Occurs along the coastal ranges from Sonoma County, California to the Puget Lowlands and Vancouver Island (Pojar et al., 1994)
soil texture
Dry, well-drained sandy and rocky soils preferred.
nutrients
Poor soil nutrient regime (Ministry of Forests, 1994). Like other members of the Ericaceae family, has an obligate relationship with mycorrhizal (Baker, 2003).
soil reaction salinity
moisture regime
Very dry to dry sites. Will grow in moister areas providing soils are well-drained.
shade tolerance
successional status
Late seral to climax in dry open coastal forests.
bec zone subzone status
In BC, range confined to just north of Vancouver and to the southern portion of Vancouver Island (Kruckeberg, 1982). Characteristic of the Coastal Douglas-fir zone (CDF and CDFmm), especially the dry sub-zone (Green and Klinka, 1994). Also occurs in the Costal Western Hemlock zone (CWH) (Klinkenberg, 2004). Hairy manzanita is often found with other ericaceous plants such as huckleberry, salal and Pacific madrone. Other common species include Oregon grape (Mahonia spp.), snowbrush (Ceanothus spp.), vine maple (Acer circinatum), beargrass (Xerophyllum tenax), various penstemon species, Oregon stonecrop (Sedum oregonese), and various fern species (Baker, 2003).
site rehabilitation
Has potential for land reclamation use on droughty, sunny sites.
wildlife
Hummingbirds feed on flower nectar. The fruit is eaten by many birds and mammals.
landscaping
Small size, pink flowers, beautiful bark, evergreen leaves and exotic shape gives it great appeal as a landscape plant. The hybrid X media, with its smaller stature, may be more suitable for the urban garden.
first nations
Berries were eaten by some peoples, but are said to cause severe constipation (Pojar et al., 1994). Tea made from the leaves was used to treat diarrhea (USDA, NRCS, 2001). Wood was burned at ceremonies because it gives off a very bright flame (Hansen, 2002).
other uses
Wood has an attractive grain and colour, and is used for small-scale craft, carving and woodworking purposes. Contorted branches are made into unusual walking sticks (www.nwplants.com/plants/shrubs/arc_col_index.html).
flowering time
fruit ripening time
seed collection time
crop intervals
seed viability
collection and abstraction
Fruits may be hand stripped or picked off the ground. Soak fruits in water and then macerate by hand or blender. Pulp can be removed by flotation, or the whole mixture may be dried and the seeds extracted by screening or a fanning mill (Meyer, 2002).
seed storage
Seeds retain viability for long periods in nature; thus stored seeds should retain viability for ten years or more. Seeds should be dried and stored at 2-4º C.
fruit seed dormancy treatment
Embryo dormancy is not common. All seeds exhibit seed coat dormancy, which is broken in nature by passing through the digestive system of an animal or by the effects of ground fires. Seeds should be scarified mechanically or by acid treatment (Meyer, 2002). The possible use of fire in dormancy treatment needs investigation, since it has been postulated that, while heat may erode the seed coat allowing water absorption, leachates from the burned vegetation may enhance germination.
additional info and photos
For more information and pictures, visit the E-Flora BC website at www.eflora.bc.ca.