Propagation Guidelines:
Kinnikinnick
Arctostaphylos uva-ursi (L.) Spreng. (A. uva-ursi ssp. uva-ursi, A. uva-ursi ssp. adenotricha [Fern. & Macbr.] Calder & Taylor, A. uva ursi ssp. stipitata Packer & Denford, A uva-ursi ssp. longipilosa Packer & Denford, A. uva-ursi ssp. coactilis [Fern. & Macbr.] Love, Love, & Kapoor)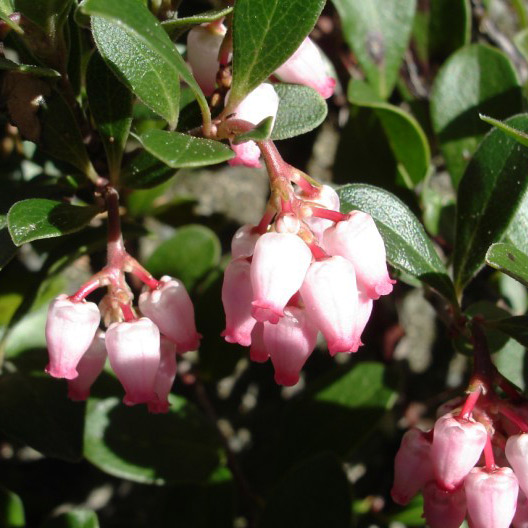 overview
Prostrate shrub with somewhat stoloniferous rooting stems sometimes forming mats several meters wide; bark reddish to brownish, peeling off; stems ascending at the tip, 5-15 cm tall, minutely hairy, sometimes glandular. Leaves: Alternate, evergreen, leathery, egg- to spoon-shaped, 1-3 cm long, 0.3-1.2 cm wide, rounded at tip, rarely pointed, narrowed basally; entire, glabrous to minutely hairy especially on the margins and midrib, dark green above, paler below; stalks 2-5 mm long. Flowers: several in few-flowered terminal clusters; flower stalks 2-5 mm long, straight or curved, borne in the axils of hairy bracts; corollas pinkish-white, urn-shaped, 4-6 mm long, five lobed; clayces 1-1.5 mm long. Fruits: berries, bright red, 5-10 mm wide (Douglas et al., 1999). Photo by Moralea Milne.
other names
common bearberry, mealberry, sandberry
family
ecological setting
Dry forests and exposed, often rocky sites in the lowland to lower alpine zones (Douglas et al., 1999.) Dry rocky slopes, dry forest and clearings (Pojar and Mackinnon, 1994).
soil texture
Strongly drained coarse-skeletal soils on water-shedding sites (Klinka et al., 1989). Sandy and gravelly soils; dry rocky slopes (Pojar and Mackinnnon, 1994). Well-drained and gravelly soils (Randall et al., 1994).
nutrients
Nitrogen poor soils (Klinka et al., 1989).
soil reaction salinity
Mor humus forms (Klinka et al., 1989). Prefers pH 4.5 to 5.5.
moisture regime
Well-drained (Pojar and Mackinnon, 1994).
shade tolerance
Shade tolerant/intolerant (Klinka et al., 1989). Sun or part shade (Helliwell, 1987).
successional status
Common in open canopy in young seral lodgepole pine forests (Klinka et al., 1989).
bec zone subzone status
site rehabilitation
Good for erosion control on slopes (MacKenzie, 1989).
wildlife
Browsed by deer, elk, bighorn sheep, and moose. The fruits are eaten by birds, deer, elk, small mammals and bears (MacKenzie, 1989).
landscaping
Rockeries, banks and any open, dry, sunny location; also under pines, arbutus (B. Costanzo, personal communication). Good soil stabilizer use as ground cover or bank cover and good alternative to lawn in hard to mow places. Also in rockeries or rock wall; evergreen; salt tolerant; grows well with Ceanothus velutinus (S. Bastin, personal communication).
first nations
Dried leaves smoked (Pojar and Mackinnon, 1994).
other uses
The root tea was a treatment for persistent cough, but should be used with caution as it is high in tannin and arbutin (Plantwatch). Warnings about the extended use of leaf tea point to stomach and liver problems and uterine contractions (Johnson et al., 1995).
flowering time
fruit ripening time
seed collection time
August – October (Banerjee et al., 2001)
crop intervals
no seeds per kg
seed viability
collection and abstraction
Collect by hand from plants or off ground. Clean by maceration and separate the nutlets by flotation or blowing (Berg, 1974).
seed storage
Keep cool during transport (Banerjee et al., 2001).
fruit seed dormancy treatment
Seeds require an acid scarification treatment immerse in sulfuric acid for three to six hours. After scarification, warm stratification for 60 days followed by cold stratification for 60 days. Sow early in summer and mulch over winter (Berg, 1974).
vegetative propagation
| Method | Success Rate | Time of Collection |
| --- | --- | --- |
| Softwood cuttings | Moderate to good | Spring |
| Semi-hardwood cuttings | Good | July - September |
| Hardwood cuttings | Moderate to good | Winter |
| Root cuttings | Good | Fall |
| Suckers | No information | No information |
| Plant division | Good from rooted creeping stems | Early spring |
Use new growth plus portion of one-year-old tissue. Use rooting hormone, plant in sandy medium, and place in mist irrigation greenhouse at 22 degrees C. Bottom heat and mycorrhizal inoculation can help rooting success (MacKenzie, 1989). Root cuttings 5-10 cm long and lay horizontally in peat, moisten and place in greenhouse (Holloway and Zasada, 1979).
additional info and photos
For more information and pictures, visit the E-Flora BC website at www.eflora.bc.ca.