Propagation Guidelines:
harvest brodiaea
Brodiaea coronaria (Salisb.) Engl. ssp. coronaria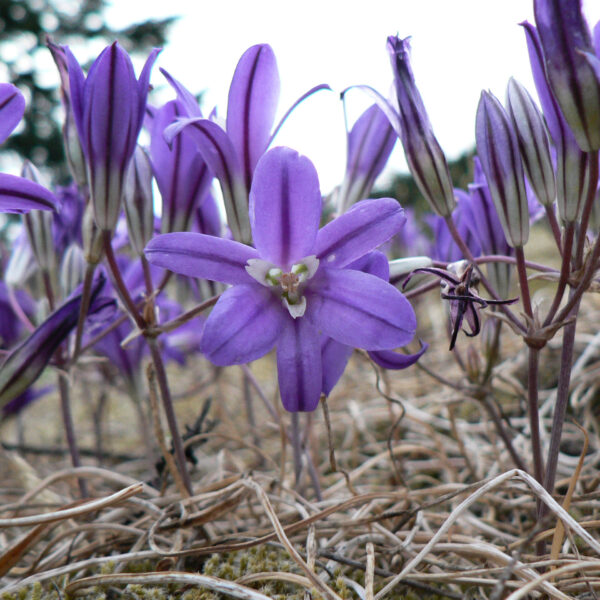 overview
Perennial herb up to 30 cm tall from a deeply buried round, scaly corm about 2 cm across. One to three grass-like basal leaves, 2-3 mm wide, drying out before the flowers appear. Flowers violet-purple, vase-shaped, 2-4 cm long, unequally stalked; in loose umbels of two to ten (usually three to five) flowers. Fruits non-stalked, egg-shaped capsules (Pojar and MacKinnon, 1994). Photo by Moralea Milne.
other names
family
ecological setting
Open, often gravelly sites (grassy meadows and slopes); at low elevations (Pojar and MacKinnon, 1994).
soil texture
Coarse-textured, free-draining (Pettinger and Costanzo, 2002).
moisture regime
shade tolerance
successional status
Climax species in dry open grassland sites.
site rehabilitation
Probably not a practical species choice for site rehabilitation.
landscaping
Attractive when used in rockeries and front of borders. Plant 15 cm apart for best results. Mix with nodding onion, common camas, satin flower and native bunchgrasses (S. Bastin, personal communication; Pettinger and Costanzo, 2002).
first nations
Corms harvested by some coastal peoples and steamed before eating (Pojar and MacKinnon, 1994).
flowering time
fruit ripening time
seed collection time
crop intervals
collection and abstraction
Collect ripe, dark-coloured capsules as they begin to split, and shake the seeds into a bag (Pettinger and Costanzo, 2002).
seed storage
fruit seed dormancy treatment
Sow seeds in the fall in a gritty mixture of sand and loam. Seedlings take 3 to 4 years from germination to flowering (Pettinger and Costanzo, 2002).
vegetative propagation
| Method | Success Rate | Time of Collection |
| --- | --- | --- |
| Softwood cuttings | | |
| Semi-hardwood cuttings | | |
| Hardwood cuttings | | |
| Root cuttings | | |
| Suckers | | |
| Plant division: Lift dormant plants and separate cormels. Air dry and store at 5ºC in slightly-damp peat moss until spring. Shallow-plant cormels in flats. New plants will form a corm and will bloom after one more year of growth (Costanzo and Dick, 2002). | Good | Autumn |
additional info and photos
For more information and pictures, visit the E-Flora BC website at www.eflora.bc.ca.