Propagation Guidelines:
small-flowered blue-eyed Mary
Collinsia parviflora Dougl. ex Lindl.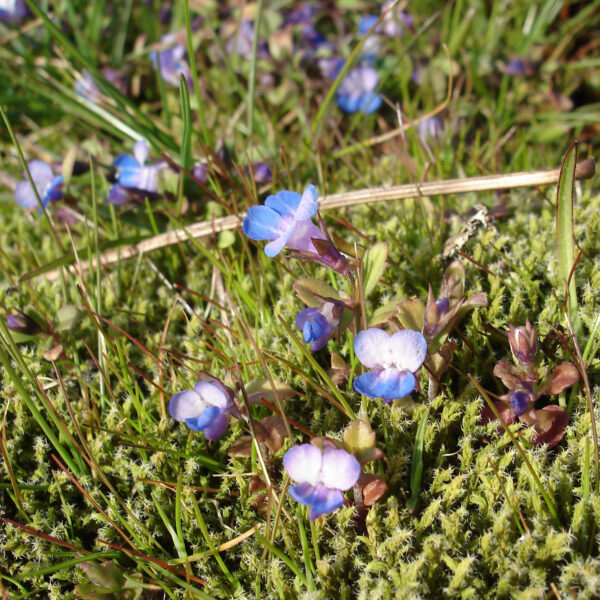 overview
Annual herb 5-40 cm tall from a taproot. Leafy stems usually erect of ascending, however, sometimes long and sprawling; may be simple or branched. Middle and upper leaves are opposite (or whorled), oblong to lance-shaped, 1-4 cm long, though smaller and bract-like in the inflorescence. Lower leaves are oblong to spoon-shaped and are stalked. Leaves: Leaves are usually hairless while stems are often covered in minute hairs that may be glandular. Flowers: Flowers are two-lipped, 4-8 mm long. The upper lip is white and two lobed; the lower lip is blue and three lobed; four stamens. Flowers are borne in the leaf axils on hairy stalks. Fruit: Fruit is a smooth, reddish-brown capsule 3-5 mm long, football-shaped, usually bearing four seeds (Pojar and MacKinnon, 1994). Photo by Emily Gonzales.
family
ecological setting
Rocky outcrops in coastal Douglas-fir zone. Areas that dry out rapidly in summer. Low to middle elevations but occasionally higher. Absent from the wet outer coast. Occurs in BC extending south to California and east to Manitoba, Michigan, Colorado and Arizona (Pojar and MacKinnon, 1994; Ganders and Krause, 1986; Elle, 2002).
soil texture
Medium textured soils (Klinka et al., 1989).
nutrients
Nitrogen rich soils (Klinka et al., 1989).
soil reaction salinity
pH 6 to 7. No tolerance of salinity (Klinka et al., 1989).
moisture regime
Dry to moderately dry (Klinka et al., 1989).
shade tolerance
Shade intolerant (Klinka et al., 1989).
successional status
Early successional in fields and forests but persistent in open grasslands and rocky slopes (C. Burton, personal communication).
bec zone subzone status
Common in Garry oak outcrop ecosystems (Erickson, 1996).
site rehabilitation
Possible use as an initial cover crop because it is shallowly-rooted, blooms early and then dies back. Can be removed early in the growing season by mowing to allow naturally regenerating or sown native vegetation to emerge (C. Burton, personal communication).
landscaping
Attractive plant with potential for the dry garden.
flowering time
fruit ripening time
seed collection time
crop intervals
no seeds per kg
seed viability
seed storage
No information available. Assume dry storage in sealed containers at 5º C.
fruit seed dormancy treatment
Sow early in the spring because seeds germinate better under cool conditions.
vegetative propagation
Not applicable since this is an annual species.
additional info and photos
For more information and pictures, visit the E-Flora BC website at www.eflora.bc.ca.