Propagation Guidelines:
Menzies' Larkspur
Delphinium menziesii DC. ssp. menziesii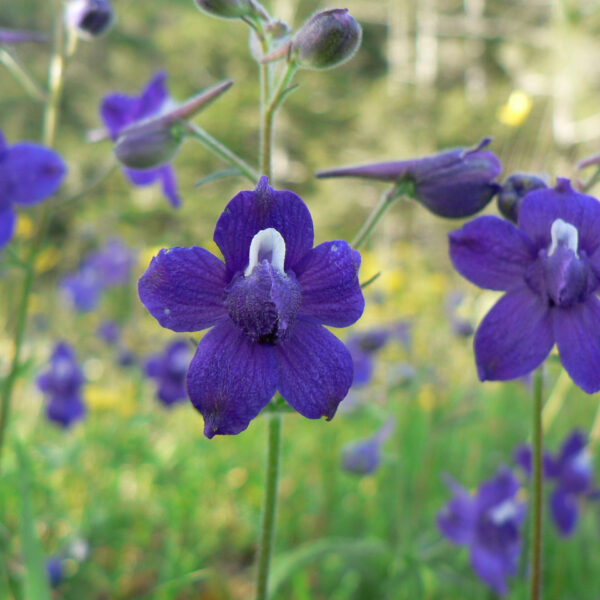 overview
Perennial from tuberous, clustered roots and usually less than 50 cm high. The stem is single and very slender usually with very fine hairs. The leaves are stalked and are mostly on the stems with the longest stalks on the few basal leaves and becoming shorter as they grow farther up the stem. The main leaf blades are two or three times palmately divided into narrowly oblong to wedge-shaped segments. Flowers are violet with the uppermost of the five petals being modified into a pronounced hollow spur. The petals are shallowly notched, ruffled, veined and wavy-edged. The upper two petals are often white. The lower flower-pedicles are usually much longer than the flowers. The flowers occur in 3-20 open, loose simple to branched terminal clusters. Blooms from May on the coast to June and July in the higher meadows. Photo by Moralea Milne.
family
ecological setting
Found west of the Cascades from Vancouver Island southwards through Washington to California. From the coast to lower mountain slopes. Found on grassy bluffs, vernal grassland and in rocky openings and dry meadows.
soil texture
nutrients
soil reaction salinity
moisture regime
shade tolerance
successional status
bec zone subzone status
site rehabilitation
wildlife
A source of pollen for butterflies and the long-proboscis bumblebee.
landscaping
first nations
other uses
flowering time
fruit ripening time
seed collection time
crop intervals
no seeds per kg
seed viability
collection and abstraction
seed storage
fruit seed dormancy treatment
additional info and photos