Propagation Guidelines:
few-flowered shootingstar
Dodecatheon pulchellum (Raf.) Merrill (D. pauciflorum [Durand] Greene, D. pulchellum ssp. pauciflorum [Durand] Hult., D. radiatum Grene, D. radiatum ssp. macrocarpum [A. Gray] Beamish, D. pauciflorum var. watsonii [Tidestr.] C.L. Hitchc., and D. radiatum ssp. watsonii Thomps. = ssp. pulchellum; D. cusickii (Greene) Calder & Taylor, D. pauciflorum ssp. cusickii = spp. cusickii).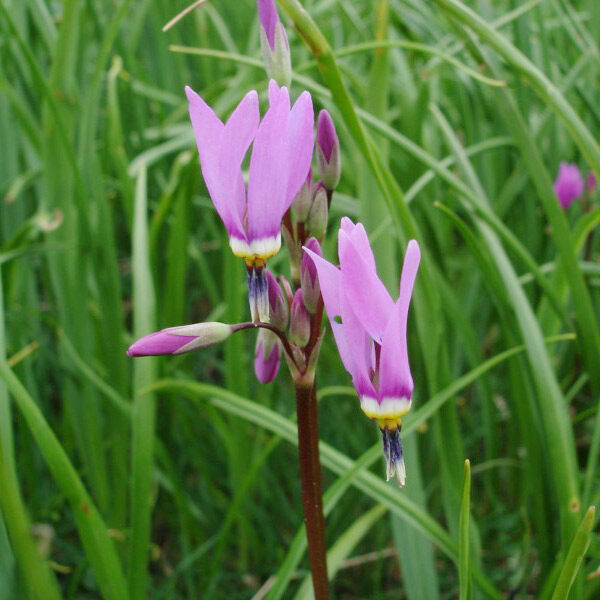 overview
Hairless to glandular-hairy perennial with leafless flowers stems 5 – 50 cm tall. Oblong lance to spoon-shaped basal leaves tapering gradually to stalk. Bright pink/magenta flowers in an umbel of 3-25 atop stem. Individual flowers have five swept back petals united at the base in a yellowish collar with purplish ring and yellow stamen tube. Pale roots are without bulblets (in contrast to D. hendersonii which has bulblets present amongst roots). Seed capsules are brown when mature, cylindrical to egg-shaped, one chamber containing many seeds (Pojar and MacKinnon, 1994). Photo by Dave Polster.
other names
family
ecological setting
Moist meadows, wet coastal rocks and bluffs, stream-banks. Sea level to alpine, mostly at low elevations in northern part of region (Pojar and MacKinnon, 1994).
soil texture
nutrients
soil reaction salinity
Grows in saline meadows (Pojar and MacKinnon, 1994).
moisture regime
Winter/spring moist soils with a drier summer habitat (Kruckeberg, 1982).
shade tolerance
Partial shade is best, particularly in drier locations.
landscaping
Very attractive late spring flowering plants for the woodland garden or shaded rockery pockets (S. Bastin personal communication).
flowering time
fruit ripening time
seed collection time
crop intervals
fruit seed dormancy treatment
Ripe seed best sown in fall for natural cold/moist stratification. Some success reported (Richard Fraser and Richard Hebda) with sowing green seed for same-season germination.
vegetative propagation
Good success rates with plant division in early spring or fall.
additional info and photos