Propagation Guidelines:
pink fawn lily
Erythronium revolutum J.E. Sm.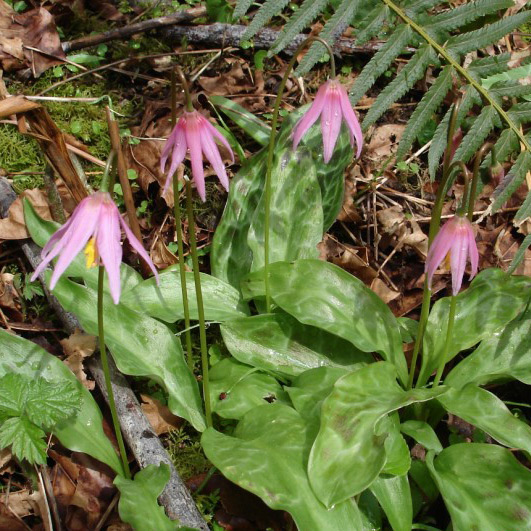 overview
Perennial herb from a narrowly egg-shaped, 3- to 5-cm long bulb attached to a chain of rhizome segments; flowering stems 15-35 cm tall, smooth. Leaves: Basal leaves 2, dull dark green mottled with brown or white, broadly lanceolate to elliptic, 10-20 cm long, smooth, gradually narrowed to short, broad, narrowly winged stalks, the margins entire but often somewhat wavy; stem leaves lacking. Flowers: Inflorescence of 1, rarely 2 or 3, flowers atop a leafless, unbranched, smooth stem; flowers rose-pink with yellow bands at the base on the inner surface, nodding, of 6 similar, distinct tepals, the tepals narrowly lanceolate, 3-5 cm long, curved back; stamens 6, anthers yellow; pistil 1, 3-chambered. Fruits: Capsules, narrowly club-shaped to oblong, erect, 3-4 cm long; seeds several to many, brown, egg-shaped, angular (Douglas et al., 2001). Photo by Dave Polster.
family
ecological setting
Found commonly on Southern Vancouver Island, and more locally south to coastal Washington and over to the west side of the Olympics and Oregon. It occurs in maritime to submaritime summer wet cool mesothermal climates. Occurrence decreases with increasing latitude and elevation
soil texture
nutrients
soil reaction salinity
moisture regime
Fresh to moist. Characteristic of alluvial floodplain forests.
shade tolerance
Damp shade or semi-shade of broad leafed forests and grassy openings.
landscaping
Takes well to moist, shaded parts of the garden. (Kruckeberg 2003)
first nations
The Kwakwaka'wakw and possibly the Nuu-chah-nulth ate the bulb. The bulbs were dug when they first sprouted in the spring and eaten raw or steamed in tall cedar boxes and served with large quantities of grease. They could also be dried in the sun and then boiled in water or baked and served with grease. Water was always drunk after consuming these bulbs. (Turner 1995)
flowering time
fruit ripening time
seed collection time
crop intervals
no seeds per kg
seed viability
collection and abstraction
Hand pick ripe seed capsules into collection bags and shake to release the seeds
seed storage
Store in sealed containers at 5º C. Check for insect infestations which may eat seeds in storage (Hook pers. obs.)
fruit seed dormancy treatment
Moist stratification in refrigerator for five to six weeks or sow immediately after collection into flats and store outside inserted in the ground for 4-6 years before transplanting (Kruckeberg 2003). Like other deep-growing bulbs in GO ecosystems, Erythronium can be grown at an accelerated rate by using shallow flats and extending growing periods. See Camassia quamash for the detailed method.
vegetative propagation
| Method | Success Rate | Time of Collection |
| --- | --- | --- |
| Softwood cuttings | n/a | n/a |
| Semi-hardwood cuttings | n/a | n/a |
| Hardwood cuttings | n/a | n/a |
| Root cuttings | n/a | n/a |
| Suckers | n/a | n/a |
| Plant division | n/a | n/a |
additional info and photos
For more information and pictures, visit the E-Flora BC website at www.eflora.bc.ca.