Propagation Guidelines:
wild strawberry
Fragaria virginiana Duchesne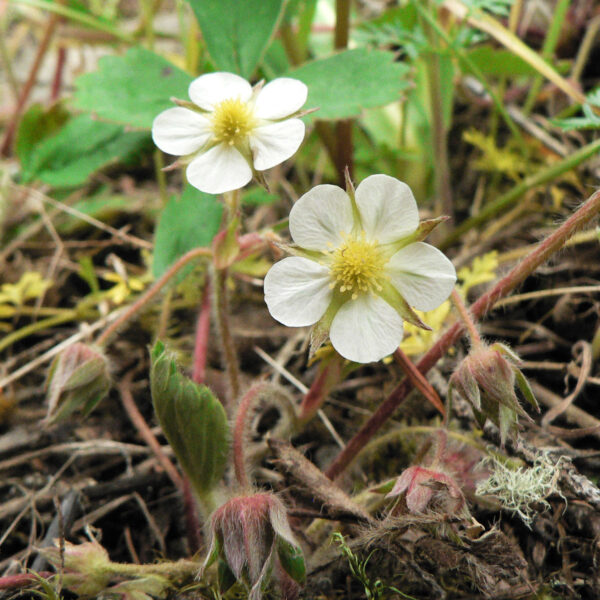 overview
Perennial herb with fibrous roots and short rhizomes usually from a single crown, with several leafless runners; stems trailing, rooting at the nodes; runners leafstalks and flower shoots with long spreading to appressed hairs and usually greenish. Leaves: Basal leaves in rosettes, palmately compound, on stalks 2-15 cm long; leaflets three, egg-shaped, short stalked, 2-7 cm long, the lower surface smooth to silky-hairy, the upper surface smooth and glaucous bluish-green, the margins coarsely toothed, the terminal tooth narrower and shorter than the adjacent teeth. Flowers: The inflorescence is an open cluster of 2-15 stalked flowers atop axillary, leafless shoots that are usually shorter than the surrounding leaves at maturity; corollas white, the petals five, egg-shaped to round, 4-9 (12) mm long; calyces long-silky-hairy, five-lobed, the lobes (sepals) lance-elliptic, 3-7 mm long, alternating with lanceolate bractlets that are shorter than the sepals; ovaries superior; stamens about 20. Fruit: Hemispheric red fruit, about 1 cm wide, covered with achenes; achenes about 1.5 mm long, partly sunken in the fleshy receptacle (Pojar and MacKinnon, 2004). Photo by Dave Polster.
other names
family
ecological setting
The wild strawberry is typically an interior species, but can be found in similar habitats from Southern Vancouver Island south. Moist to dry fields, roadsides, meadows, grassy slopes, thickets, forest edges, and open forests in the lowland to subalpine zones; common throughout BC, North to AK and NT, East to NF and South to CA, CO, TN, and GA.
soil texture
nutrients
soil reaction salinity
moisture regime
3.9 (0- xeric, 4-mesic; 8-hydric)
shade tolerance
Drought tolerant species for full sun and poor soil conditions.
successional status
Characteristic of young seral forests.
bec zone subzone status
Modal BEC Zone Class- IDF. Zone Classes species was recorded in- AT, BG, BWBS, CWH, ESSF, ICH, IDF, IWCW, MS, PP, PPBG, SAES, SBPS, SBS, SBWS, SWB, SWBS.
wildlife
Deer, rodents, and birds eat the fruit (Horn).
landscaping
Groundcover substitute for lawns, combine with native plants such as nodding onion.
first nations
Many first nations ate the fruit off the vine and made jams and preserves. Leaves were harvested and used to make a sweet tea.
flowering time
fruit ripening time
seed collection time
collection and abstraction
Seed Processing - Seed is collected when the fruits turn red in mid summer. Seed is extracted by maceration and then washed and screened.
seed storage
Seed longevity is estimated at 20 years stored in sealed containers at 3-5º C (Rose et al., 1998).
fruit seed dormancy treatment
Seed dormancy is classified as physiological dormancy. Seed Treatments: A minimum of 85 days stratification is recommended for this species. Germination occurs at 21º C.
vegetative propagation
Can be successfully propagated by suckers in late summer or early fall.
additional info and photos