Propagation Guidelines:
chocolate lily
Fritillaria affinis (Schult.) Sealy var. affinis (F. lanceolata Pursh)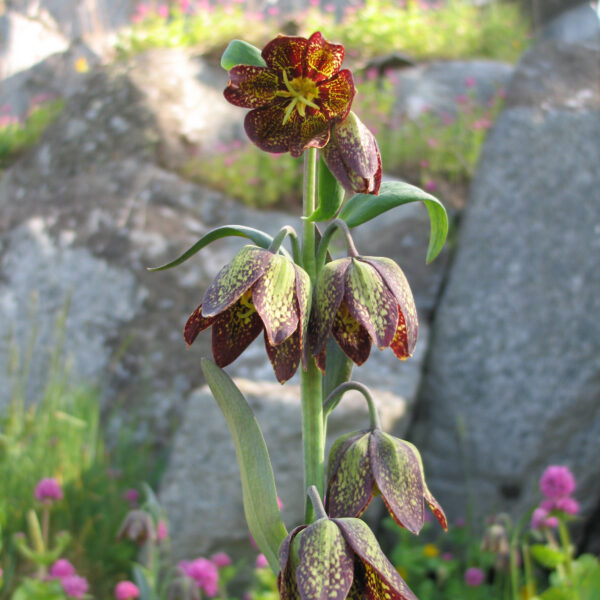 overview
Perennial glabrous herb to 80 cm tall, from a scaly bulb with numerous rice-like bulblets. Leaves in 1-2 whorls of 3-5, sometimes alternate, lance-shaped, 5-15 cm long. Flowers dark purple mottled with greenish-yellow, bell-shaped, to 4 cm long, nodding; single or in clusters of two to five, terminal. Fruits upright six-angled capsules, with wings on the angles. Many flat seeds (Pojar and MacKinnon, 1994). Photo by Lyndia Terre.
other names
family
ecological setting
Prairies and grassy bluffs to woodlands and coniferous forests, from near sea level to nearly sub-alpine. Along the coast and inland along the major river valleys (Pojar and MacKinnon, 1994).
soil texture
Well drained Moder and Mull humus forms (Klinka et al., 1989).
nutrients
Nitrogen rich soils (Klinka et al., 1989).
soil reaction salinity
moisture regime
Dry to mesic, water-shedding and water-receiving sites (Klinka et al., 1989).
shade tolerance
Shade intolerant (Klinka et al., 1989)
successional status
Climax species in meadow-like communities.
bec zone subzone status
Component of Garry oak-camas-white fawn lily meadows.
first nations
Bulbs were steamed in pits and eaten. Said to be tender and delicate, resembling rice but slightly bitter (Pojar and MacKinnon 1994).
flowering time
fruit ripening time
seed collection time
crop intervals
collection and abstraction
Pick seed when capsule is no longer green and begins to split along the seams. Pick into a collection bag, allow drying, and then shaking to release the seed (King, 2001).
seed storage
Store seeds dry in sealed containers at 5º C. Viability under storage is unknown.
fruit seed dormancy treatment
Sow seeds in fall in outdoor nursery flats to allow seeds to break dormancy naturally, or sow stored seeds in spring after three-month cold stratification. Flats may show no germination for up to six months. Protect seedlings from bright sun during mid-summer. Hold seed flats in a shady spot until the fall of the second year before transplanting. Plants may take four to six years to produce flowers (Pettinger and Costanzo, 2002).
vegetative propagation
In late summer to early fall (when the plant is dormant), chocolate lily can be propagated from bulb scales or bulb off-sets removed from the mother plant after die-back (King, 2001).
additional info and photos
For more information and pictures, visit the E-Flora BC website at www.eflora.bc.ca.