Propagation Guidelines:
Oceanspray
Holodiscus discolor (Pursh) Maxim.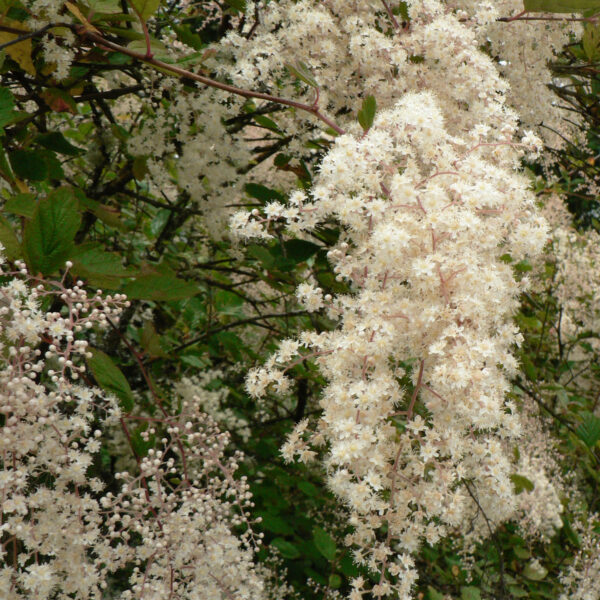 overview
Erect shrub usually with several main stems to 4 m in height. Leaves alternate, deciduous, slightly hairy, and oval to triangular in shape with prominent veins and many small lobes with fine teeth. Flowers small, white to cream in colour, in dense terminal panicles of up to 30 cm in length. Flower clusters turn brown and remain on the plant over winter. Fruit is a tiny (2 mm long), yellowish-brown, hairy achene (Pojar and MacKinnon, 1994). Photo by Moralea Milne.
other names
creambush, ironwood, arrow wood
family
ecological setting
Cool temperate and cool mesothermal climates from southern British Columbia south through Washington and Oregon to California and east to western Montana. Found from sea level to 2100 m, decreasing in occurrence with increasing elevation, latitude and precipitation (Pojar and MacKinnon, 1994).
soil texture
Well-drained, coarse-textured soils (Pojar and MacKinnon, 1994).
nutrients
Nitrogen-medium soils (Pojar and MacKinnon, 1994).
soil reaction salinity
moisture regime
Very dry to moderately dry, moisture-shedding sites soils (Pojar and MacKinnon, 1994).
shade tolerance
Full sun to partial shade. Prefers open areas (open woodlands, clearings, logged areas, ravine edges, coastal bluffs) (Pojar and MacKinnon, 1994).
successional status
Climax species on drier sites. Pioneer seral species on moister sites due to its ability to regenerate after fire and other disturbances (Stickney, 1974; Anderson, 1987).
bec zone subzone status
Characteristic of the Garry oak-oceanspray community where it is most often associated with indicator plants such as Oregon grape (Mahonia spp.) and the moss Kindbergia oregana (Klinka et al., 1989; Erickson, 1996).
site rehabilitation
Excellent soil-binding characteristics for site stabilization and erosion control (Potash and Aubrey, 1997; Rose, Chachulski and Haase, 1998).
wildlife
Moderately-important browser species for coastal blacktail deer. Important food source for small, seed-eating birds.
landscaping
Creamy-white panicles of "soft lace". One of the top ten native shrubs in the Pacific Northwest. Beautiful as a background to herbaceous borders, particularly of tall perennials such as foxgloves and blue-flowered delphiniums (Grant and Grant, 1967).
first nations
Wood for digging sticks, spear and harpoon shafts, bows, and arrow shafts. Infusions of dry inflorescences ingested as a cure for diarrhea and as a blood tonic (Pojar and MacKinnon, 1994).
other uses
Known as "ironwood" due to the strength and hardness of the wood. Used for fishing rods, walking sticks and, before iron nails were commonly-available, as pegs in construction work (Pojar and MacKinnon, 1994).
flowering time
fruit ripening time
seed collection time
September to October. Fruit should be collected while the flower clusters are dark brown (grey-coloured flower clusters indicate that the majority of fruits have been shed) (Potash and Aubrey, 1997).
crop intervals
no seeds per kg
seed viability
seed storage
No information available. Assumed cold storage at 2-4º C.
fruit seed dormancy treatment
Achenes exhibit pronounced dormancy. For optimum germination, seed must be either sown in the fall (usually preferable) or undergo a cold, moist stratification at 4-5º C for a period of 15 to 18 weeks. Following stratification, seed will germinate quickly if held at temperatures of 20-24º C (Potash and Aubrey, 1997).
vegetative propagation
| Method | Success Rate | Time of Collection |
| --- | --- | --- |
| Softwood cuttings | Do not perform well | n/a |
| Semi-hardwood cuttings | Good | Late summer/early fall |
| Hardwood cuttings | Good | January/February |
| Root cuttings | n/a | n/a |
| Suckers | Good | Fall or early spring |
| Plant division | Good (ability to sprout from perennating buds located on the root crown) | Fall or early spring |
additional info and photos
For more information and pictures, visit the E-Flora BC website at www.eflora.bc.ca.