Propagation Guidelines:
Common Juniper
Juniperus communis L. (J. siberica Burgsd., J. nana Willd.)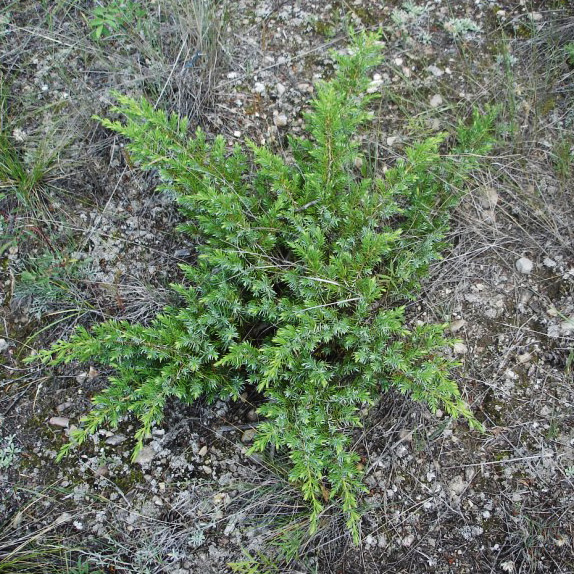 overview
Evergreen, prostrate, trailing, branched shrub usually less than 1 m high forming mats or clumps up to 3 m in diameter. Bark is very thin, reddish-brown, shredding to scaly. Leaves are needle-like to narrowly lanceolate, stiff and very prickly, dark-green above, whitish below. Male and female cones are on separate plants. Female cones are berry-like, fleshy, pale green when young, changing to bluish-black at maturity and covered with a white-grey bloom. Female cones ripen in the second or third growing season (Pojar et al., 1994; Banerjee et al., 2001). Photo by Dave Polster.
other names
ground juniper, dwarf juniper, mountain common juniper, old field common juniper, prostrate juniper, hackmatack, horse savin
family
ecological setting
Adaptable to diverse soil and climatic conditions. Grows in dry, open woods, on gravelly ridges, outcrops and open rocky slopes, and in muskeg. Ranges from lowland bogs to subalpine ridges and alpine tundra. The only circumpolar conifer in the northern hemisphere (Pojar et al.). Widespread in western North America from Alaska to California.
soil texture
Coarse textured to organic. Grows well in a soils ranging from gravelly to sandy loam and loam (Rook, 1998).
nutrients
Well aerated soils with low nitrogen and phosphorus levels. Tolerant of ultramafic soils (FEIS, 1995).
soil reaction salinity
Variable: mildly calcareous to moderately acidic. Not saline tolerant (FEIS, 1995).
moisture regime
Diverse. Prefers dry, well drained soils, but will grow on moister sites on southern exposures.
shade tolerance
Full sunlight to light shade. Prefers open environments (Rose et al, 1998).
successional status
Early succession after fire to climax on dry open sites where competition is lacking.
bec zone subzone status
Common on rocky exposed sites in association with arbutus, Garry oak, Douglas-fir and oceanspray.
site rehabilitation
Useful hardy groundcover on exposed sites for soil erosion and site stabilization.
wildlife
Good cover for birds and small mammals. Some birds feed on the berries but these are generally low in nutritional value (FEIS, 1995).
landscaping
Highly-valued ornamental. Good colour contrast. Combines well with Arctostaphylos uva-ursi (S. Bastin, personal communication).
first nations
Considered an important medicinal plant by interior peoples to treat urinary tract infections, but used with caution because it can induce uterine contractions and thus miscarriages (Pojar et al.). Tonics from needles used to treat colds, flu, arthritis and muscle aches. Infusions of berries used to treat stomach ailments and from bark used to treat respiratory problems (FEIS, 1995).
other uses
Berries used in European cooking as a flavouring for soups, stews, cordials and gin (Pojar et. al.). Wood is fine-grained, durable with attractively coloured heart wood. Used for small carvings, jewelry and crafts (FEIS, 1995).
flowering time
fruit ripening time
August - September. Fruit generally remains on the plant for at least 2 years, with dispersal in August of the second season.
seed collection time
crop intervals
no seeds per kg
seed viability
collection and abstraction
Fruits may be collected by hand-picking, stripping, or shaking the fruit from the shrubs onto collection trays or tarpaulins (Banerjee et al., 2001; Rose et al., 1998). Fruit macerated in a blender and seeds separated from the pulp by floatation. It is best to collect seeds when the majority are ripe (bluish-black in colour). Germination of seeds from green fruit is uniformly low (FEIS, 1995). Defective seeds are common (Banerjee et al., 2001).
seed storage
Dry seeds and store at -5º C. Seed retains viability for >5 years. May also be fall-sown (Rose et al., 1998; FEIS, 1995).
fruit seed dormancy treatment
Requires warm stratification (20º C night and 30º C day) for 60 to 90 days followed by cold stratification (1 to 5º C) for 90 days.
vegetative propagation
| Method | Success Rate | Time of Collection |
| --- | --- | --- |
| Softwood cuttings | Moderate to good | June - early July |
| Semi-hardwood cuttings | n/a | mid-summer |
| Hardwood cuttings | Moderate to good success from dormant heel cuttings | November - December |
| Root cuttings | Good | Late April |
| Suckers | Good | Winter |
| Plant division | n/a | n/a |
Cuttings must be rooted under moist conditions because they take several months to a year to root. Sand is the best rooting medium. Cuttings from female plants may have better rooting potential than those from male plants. Root production from stem cuttings can be enhanced by wounding the base.
additional info and photos
For more information and pictures, visit the E-Flora BC website at www.eflora.bc.ca.