Propagation Guidelines:
Dull Oregon-grape
Mahonia nervosa (Pursh) Nutt. (Berberis nervosa Pursh)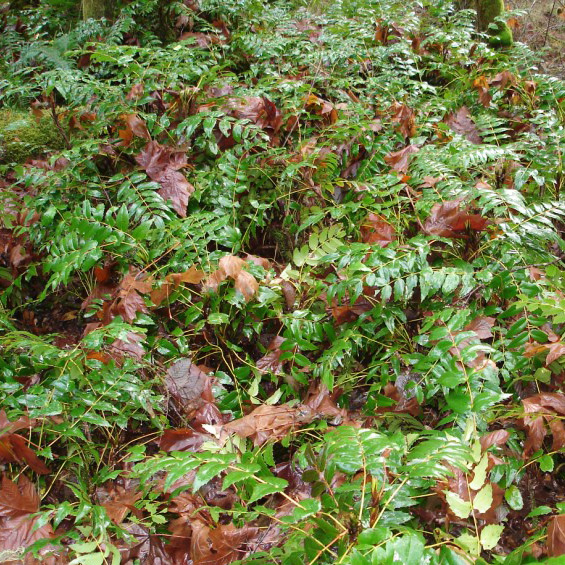 overview
An erect evergreen shrub reaching 60 cm tall. Compound leaves resemble holly and are clustered at the base, with nine to nineteen leathery and spiny leaflets that turn purplish in winter. Flowers are bright yellow racemes, becoming edible berries with large seeds and a whitish bloom (Pojar and MacKinnon, 1994). Photo by Carolyn Masson.
other names
longleaf hollygrape, creeping hollygrape, cascade Oregon-grape
family
ecological setting
Mesic to dry open slopes and open forests in the lowland, steppe and montane zones (Douglas et al., 1998). Dry to fairly moist, open to closed forests at low to middle elevations (Pojar and Mackinnon, 1994). Scattered to abundant, occasionally dominant in the understory of semi-open forests (persists on cutover sites) on water-shedding sites (Klinka et al., 1989). Can grow in the understory of 300-600-year-old forests and in open meadows and recent clear cuts (Tirmenstein, 1990).
soil texture
Coarse, skeletal soils (Klinka et al., 1989). Coarse, shallow, rocky soils, coarse alluvium, or glacial outwash.
nutrients
Nitrogen medium soils (Klinka et al., 1989).
soil reaction salinity
Acidic to moderately alkaline. Moderately saline tolerant (Tirmenstein, 1990).
moisture regime
Moderately dry to slightly moist regimes (Klinka et al., 1989). Well to poorly drained (Tirmenstein, 1990).
shade tolerance
Grows well in sun or shade (Tirmenstein, 1990).
successional status
Understorey dominant in early seral stages after low-intensity fires but persists into later seral stages because of its ability to tolerate shade (Tirmenstein, 1990).
bec zone subzone status
Associated with oceanspray in the Garry oak-oceanspray community (Klinka et al, 1989).
site rehabilitation
Useful for erosion control and site stabilization because of its rhizomatous habit and wide range of shade tolerance (Minore et al., 1996).
landscaping
Popular ornamental. Good ground cover under conifers or deciduous trees (B. Costanzo, personal communication). Four season characteristics – showy bright yellow flowers; grape-like edible fruit; good fall/winter colour. Use on banks or as a ground cover. Good compact habit so could be used in a short border and for ground cover in a woodland setting (S. Bastin, personal communication).
first nations
Fruit eaten mixed with salal and some other sweetening fruits. Shredded bark or roots used to dye basket materials bright-yellow. Bark and berries used medicinally for liver, gall-bladder and eye problems. Berries eaten in quantity as an antidote to shell-fish poisoning (Pojar et al., 1994).
other uses
Can be used to make jelly. Roots contain an alkaloid (berberine) with anti-bacterial properties (Minore and Rudolf, 1996).
flowering time
Early to late spring (Rose et al., 1999)
fruit ripening time
seed collection time
August - September. Fruit should be collected when berries are purplish-blue in colour.
crop intervals
no seeds per kg
50,705-66,140 (Rudolf, 1974)
seed viability
collection and abstraction
Use gloves to collect berries or flail from shrubs onto cloths. Clean by macerating with water and allowing pulp to float off (Rose et al., 1998).
seed storage
Seeds should be superficially dried and sown immediately or store in sealed containers at 2-4º C (Minore and Rudolf, 1996; Rose et al., 1998).
fruit seed dormancy treatment
Sow immediately in 1.25 cm of soil, covered with 0.6 cm of sand, and stratify over winter under mulch. Spring-sown seeds should be cold stratified for six to ten weeks at 4oC (Minore and Rudolf, 1996).
vegetative propagation
| Method | Success Rate | Time of Collection |
| --- | --- | --- |
| Softwood cuttings | Good | Early summer |
| Semi-hardwood cuttings | n/a | n/a |
| Hardwood cuttings | Healed, nodal or basal cuttings treated with rooting hormone (Minore and Rudolf 2001). | Late fall or winter |
| Root cuttings | Moderate to good from rhizomes (Rose et al., 1998) | |
| Suckers | n/a | n/a |
| Plant division | Good | Spring or fall |
Remove spines and leaves and treat with rooting hormone. Use 2:1 vermiculite:sand mixture in a cold frame (Huxley et al., 1992).
additional info and photos
For more information and pictures, visit the E-Flora BC website at www.eflora.bc.ca.