Propagation Guidelines:
satinflower
Olsynium douglasii (A. Deitr.) Bickn. (Sisyrinchium douglasii A. Dietr., S. inflatum [Suksd.] St. John = var. inflatum)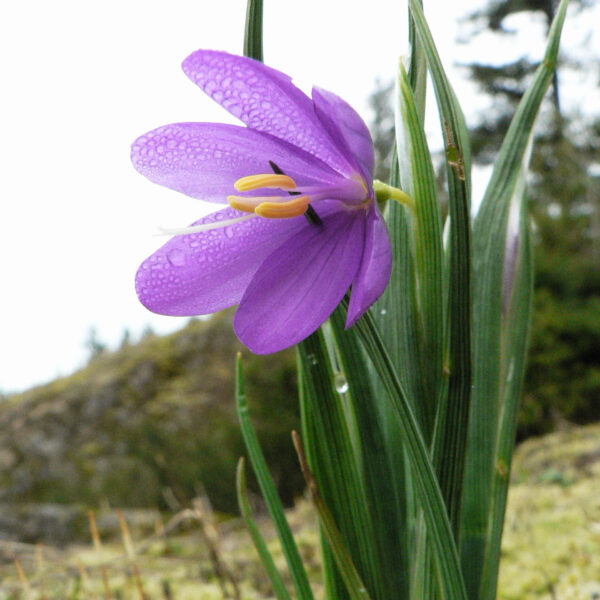 overview
Tufted perennial herb, 15-30 cm tall with greyish-green, grass-like leaves. Flowers are purple with a satiny sheen, up to 4 cm across and very showy. Flowers are terminal above two sheathing leaf-like bracts (one longer than the flower, one shorter) on stems which are flattened but not winged. Small, brown, finely pitted seeds within three-chambered seed capsule to 1 cm long (Pojar and MacKinnon, 1994). Photo by Moralea Milne.
other names
purple blue-eyed grass (var. inflatum); Douglas' blue-eyed grass (var. douglasii); grass widows
family
ecological setting
Dry rocky bluffs and meadows, open oak woodlands at low to middle elevations (Pojar and MacKinnon, 1994).
soil texture
Shallow, mossy soil (Hebda, 1995).
moisture regime
Wet spring soil and dry summer soil (Hebda, 1995).
shade tolerance
landscaping
One of the showiest early spring flowers. Wonderful for sunny rock gardens, low border, planter and meadow (S. Bastin personal communication).
flowering time
fruit ripening time
seed collection time
crop intervals
seed viability
fruit seed dormancy treatment
Sow seed in late summer; leave out for cold moist stratification over winter (Hebda, 1995).
vegetative propagation
Satinflower can be successfully propagated by division. Carefully divide rooted pieces of crown in the fall.
additional info and photos