Propagation Guidelines:
Mock-orange
Philadelphus lewisii Pursh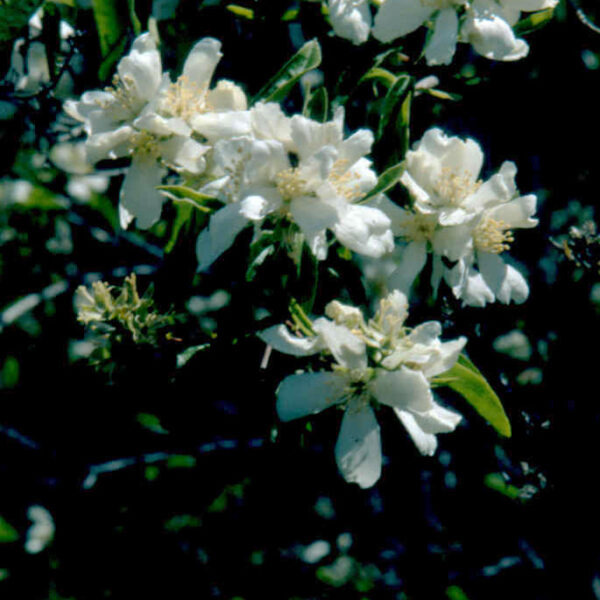 overview
Erect, loosely branched shrub, to 3 m tall; bark dark brown, checking and eventually flaking off. Leaves opposite, deciduous, short-stalked, oval to egg-shaped, 3-5 cm long, light green, margins essentially smooth but with some teeth on young leaves, three major veins from the leaf base. Flowers white, 2-3 cm broad, fragrant, usually with four petals and numerous stamens, 3-15 in clusters at the end of lateral branches. Fruits oval, woody, four chambered capsules approximately 1 cm long. Vegetative and floral characteristics are extremely variable depending on local ecological conditions (Pojar et al., 1994).
other names
Lewis' mock-orange, Indian arrow-wood, Indian arrowhead, syringia, mock-orange
family
ecological setting
From British Columbia and southwest Alberta southward through Montana and Idaho to northern California (Stickney, 1974). Sub-continental to continental cool temperate and cool semi-arid climates. Occurrence increases with increasing temperatures and decreases with increasing elevation. Scattered occurrence in open-canopied Douglas-fir forests, but most common on water-shedding sites (Klinka et al., 1989). Habitat varies from open forests and forest edges to open brushy communities at low to middle elevations (Pojar and MacKinnon, 1994). Normally scattered at low densities but sometimes occurs in dense, localized stands (Carey, 1995).
soil texture
Organic soils on forest sites; rocky soils on brushy, dry sites (Pojat and MacKinnon, 1994).
nutrients
Nitrogen-medium soils (Klinka et al., 1989).
soil reaction salinity
pH 4.1 to neutral (Klinka et al., 1989).
moisture regime
Moderately dry to moist (Pojar and MacKinnon, 1994).
shade tolerance
Sun loving to moderately shade tolerant (Klinka et al., 1989).
successional status
Early to mid-seral species. Often present in seral shrub communities following logging and burning. Top may be killed by fire but the root crown usually survives and produces sprouts (Carey, 1995).
bec zone subzone status
Characteristic of the Garry oak-Douglas-fir community. Associated with indicator plants such as dull Oregon grape and ocean spray (Klinka et al., 1989).
site rehabilitation
Riparian bank stabilization, adapted to areas of full and partial sun. Suitable for both upland and seasonally inundated areas (SSWC, 1998). Not suitable for compacted clay soils (Crowder and Darris, 1999).
wildlife
Attracts bees and butterflies (SSWC, 1998). Moderately important winter forage for deer and elk. Seeds eaten by birds and rodents. Dense shrub habitats, particularly along riparian areas, provide good summer and winter wildlife cover (Stickney, 1974; Carey, 1995).
landscaping
Showy, aromatic flowers. Potential use in both native plant and mixed gardens. Good for hedges and shrub borders. Related garden plant commonly grown in the Pacific Northwest is the European variety P. coronarius (Pojar and MacKinnon, 1994). Very sensitive to herbicide sprays (Carey, 1995).
first nations
The Saanich and Skagit used the wood for bows and arrows; the Lummie and Cowlitz used the wood for combs, netting shuttles and knitting needles. The Snohomish, Cowlitz and others used a lather obtained by bruising and rubbing the leaves and flowers for cleansing the skin (Pojar and MacKinnon, 1994).
other uses
The wood is strong and hard and does not crack or warp when cured properly (Pojar and MacKinnon, 1994).
flowering time
fruit ripening time
seed collection time
Mid-September to late October
crop intervals
no seeds per kg
7.7 million to 17 million
seed viability
50 to 65% if stratified for full 8 weeks.
collection and abstraction
Check during mid-August for seed development and frequently prior to collection to ascertain collection timing. Use cutting test, half-section method to assess developing seeds within capsules. Capsules are best collected from standing plants by hand-picking directly into picking bags (Banerjee et al., 2001). Extract seeds by gently crushing the dried capsules and passing them through an aspirator (Rose, 1998).
seed storage
fruit seed dormancy treatment
Stratify seeds at 5º C for eight weeks. Germinate at temperatures from 22-26º C. Can also be fall-sown.
vegetative propagation
| Method | Success Rate | Time of Collection |
| --- | --- | --- |
| Softwood cuttings | Excellent. Treat with 1000 ppm IBA. Root under mist in 1:1 peat/perlite. | June and July |
| Semi-hardwood cuttings | n/a | August - September |
| Hardwood cuttings | Good. Treat with 2500 to 8000 ppm IBA. Insert 20 cm cuttings, 15 cm deep into sandy medium. | Late winter to spring |
| Root cuttings | Fair to good | Not reported |
| Suckers | Fair to good | Not reported |
| Plant division | Fair to good | Not reported |
additional info and photos
For more information and pictures, visit the E-Flora BC website at www.eflora.bc.ca.