Propagation Guidelines:
licorice fern
Polypodium glycyrrhiza D.C. Eaton (P. vulgare L. var. occidentale Hook., P. occidentale [Hook.] Maxon)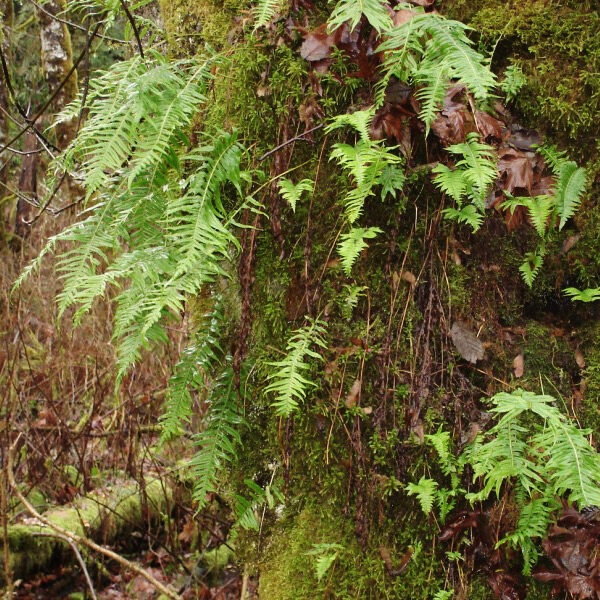 overview
Small to medium sized evergreen fern to 70 cm tall (but often much smaller). Fronds grow from creeping, reddish-brown, scaly, licorice-flavoured rhizomes. Stipes straw-coloured, smooth, usually shorter than the blades. Blades to 50 cm long, once-pinnate; leaflets usually longer than 3 cm, with pointed tips and finely scalloped or toothed margins. Sori oval to round, with no indusium, in a single row on each side of the main vein (Pojar and MacKinnon, 1994). Photo by Dave Polster.
family
ecological setting
On wet mossy ground, logs and rocks (sometimes forms large sheets over rock slabs). Also common as an epiphyte on the trunks and branches of broad-leafed trees (especially bigleaf maple). Coastal BC, Washington and Oregon (Pojar and MacKinnon, 1994; Klinka et al., 1989).
soil texture
Shallow humic or rocky soils to rock faces.
nutrients
Prefers calcium-rich substrates.
soil reaction salinity
Mildly acidic to moderately calcareous.
moisture regime
Moist to dry. Poikilohydric ability (curls and dries like mosses and lichens until moisture returns) (Pojar and MacKinnon 1994; Klinka et al., 1989; Vitt et al., 1998).
shade tolerance
Shade intolerant (Klinka et al., 1989).
successional status
Unknown. Assume late seral to climax depending on site (Klinka et al., 1989).
bec zone subzone status
Dominant species in peripheral Garry oak communities in moister regimes on very shallow rocky soils (Romer, 1993).
site rehabilitation
De-vegetated rocky sites and banks.
wildlife
Epiphytic flora like licorice fern is important because it is a habitat niche for organisms. Licorice fern provides food for herbivorous insects and mammals (Nelson).
landscaping
Useful and attractive rock garden plant and areas where winter greenery and ground cover is desired (Brickell et al., 1997).
first nations
Some Aboriginal peoples chewed the sweet rhizomes for the flavour. Some groups ate the rhizomes steamed or broiled. Important medicine for colds and sore throats. They were also mixed with bitter medicines as a sweetener (Pojar and MacKinnon, 1994)
seed collection time
crop intervals
seed viability
collection and abstraction
When ripe, spores will appear plump and red-brown to cinnamon-brown in colour. Cut fronds from the plant and place, sporangia side down, on a sheet of white shiny paper. Enclose this sheet in newspaper and place in a warm dry place until a fine brown powder can be seen on the paper. Collected spores can then be placed in a container, envelope or jar and placed in refrigerator.
seed storage
It is best to store spores at 4º C in an air-tight screw-capped vial. For the spore to germinate, it must be kept moist at all times. With increasing spore age, the percentage of viable spores decreases, with an increasing delay in germination. Immediately after collection, spores germinated at about 89.6%, while after four years of storage, germination declined to 53.7% (Kaczynski, 2005).
fruit seed dormancy treatment
Spores do not need dormancy breaking, and can be sown as soon as they are ripe (Kaczynski, 2005).
vegetative propagation
| Method | Success Rate | Time of Collection |
| --- | --- | --- |
| Softwood cuttings | | |
| Semi-hardwood cuttings | | |
| Hardwood cuttings | | |
| Root cuttings | | |
| Suckers | | |
| Plant division | Good | Spring |
additional info and photos
For more information and pictures, visit the E-Flora BC website at www.eflora.bc.ca.