Propagation Guidelines:
Pacific sanicle
Sanicula crassicaulis Poepp. ex DC. var.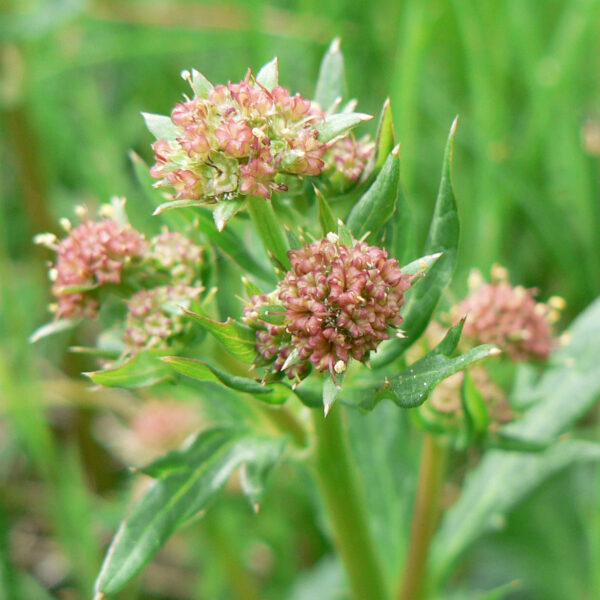 overview
Tap-rooted perennial herb. Solitary, erect, leafy stem 25-120 cm tall. Alternate leaves; lower leaves stalked, becoming smaller and sessile above. Basal and lower stem leaves with 3-5 palmate lobes, primary divisions slightly lobed or toothed, blades 3-13 cm long and 2-18 cm wide. Flowers yellow or sometimes purple tinged, small. 8-13 in small, compact, rounded clusters less than 1 cm wide on long stalks subtended by leafy bracts. Fruits ellipsoidal to spherical burrs, 2-5 mm long, 2-4 mm wide, covered with stout, hooked prickles (Pojar and MacKinnon, 1994). Photo by Moralea Milne.
other names
family
ecological setting
Common in moist to dry, open forest, thickets and shoreline bluffs at low elevations (Douglas et al., 1998).
soil texture
Slightly coarse to fine loamy soils.
nutrients
Nitrogen-and base-rich soils (Klinka et al., 1995).
soil reaction salinity
Moderately acidic to slightly alkaline (Douglas et al., 2001).
moisture regime
Moist to dry sites (Douglas et al.,1998).
shade tolerance
Moderately shade tolerant to shade intolerant (Klinka et al., 1995).
successional status
Seral species in moist, open canopied young forests. Climax species on drier sites.
bec zone subzone status
Associated with almost all Garry oak communities from meadows to rocky outcrops.
site rehabilitation
Potentially-valuable species for rehabilitation of Garry oak meadow and outcrop ecosystems.
landscaping
Possible rock garden ornamental.
first nations
flowering time
fruit ripening time
seed collection time
crop intervals
no seeds per kg
seed viability
collection and abstraction
Collect seeds when inflorescence and fruits turn brown. Rub fruits over a screen to break them apart and release the seeds (Young, 2001).
seed storage
Air-dry seeds and store in a refrigerator at 5º C (Young, 2001).
fruit seed dormancy treatment
Soak seeds for 24 hours and cold stratify for six weeks at 5º C. Sow into flats in a sandy/loam soil mix. Germination occurs within 15 days. Prick out germinants and transplant into containers. Seedlings experience die back three to four months after transplanting but re-grow in the spring (Young, 2001).
additional info and photos
For more information and pictures, visit the E-Flora BC website at www.eflora.bc.ca.www.eflora.bc.ca