Propagation Guidelines:
Broad-leaved Stonecrop
Sedum spathulifolium Hook. (S. pruinosum Britt. and S. spathulifolium ssp. pruinosum [Britt.] Clausen & Uhl var. pruinosum)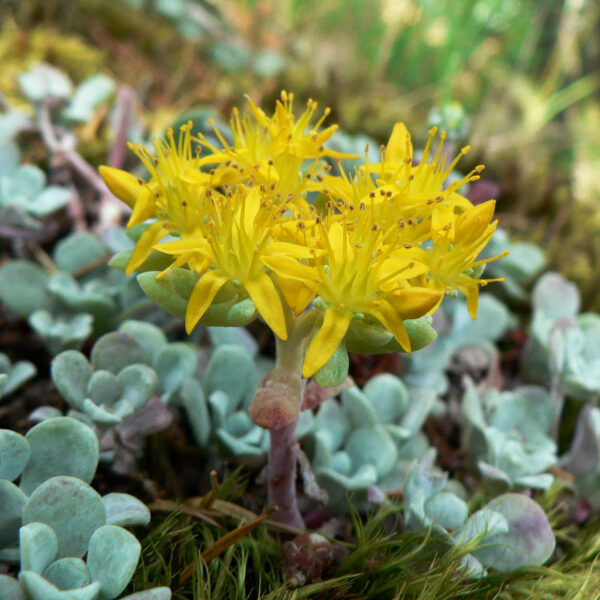 overview
Perennial, succulent herb that reaches a height of 20 cm. Leaves are strongly flattened, fleshy and broadest beyond the mid-length (thumb or spoon shaped), alternate, 2 cm long and 1 cm wide, crowded, sage-green and reddish in full sun, surface is glaucous and sometimes wrinkled. Flowers are bright yellow with petals to 1 cm long, in fives, lance-shaped, pointed; in flat-topped clusters atop leafy, flowering stems. Fruits are erect follicles with five segments joined at the base and spreading at the tips and with numerous seeds. Photo by Moralea Milne.
other names
family
ecological setting
Found on the southern half of coastal and interior British Columbia to California. Common on southern Vancouver Island and the Gulf Islands. Also common on the San Juan Islands and west of the Cascades throughout Washington including the Olympics and the Columbia Gorge. Found in very dry to dry sunny areas such as rocky outcroppings, coastal bluffs, cliffs and ravines. Low to middle elevations.
soil texture
Coarse textured sandy, gravelly soils.
nutrients
moisture regime
Excessively dry to very dry soils. Abundance decreases with increasing precipitation. Shallow, water shedding sites; characteristic of moisture-deficiency (Klinka et al., 1995).
shade tolerance
Very shade intolerant (Klinka et al., 1995).
successional status
Climax species on excessively dry, non-forested sites.
bec zone subzone status
Rock outcrops within driest Garry oak communities.
landscaping
Showy plant (flowers and leaf colour) in a rockery, front of a border, in containers, or as a ground cover (S. Basin, personal communication).
first nations
The Halq'emeylem of Kuper Island used this species as a styptic poultice. Songish women of the Straits Salish chewed the leaves in the last month of pregnancy to ease childbirth.
flowering time
fruit ripening time
seed collection time
crop intervals
collection and abstraction
Collect follicles when ripe by hand-clipping into a collection bag. Allow to dry and shake bag to release the seed. If growing sedum in containers, place pots or flats filled with soil around the containers and let seed disperse naturally onto the bare soil surfaces. Store outside for natural dormancy-breaking and spring germination (Dick, personal communication).
fruit seed dormancy treatment
Sow seeds into outdoor containers or flats in the autumn and allow dormancy to break naturally. Alternatively, cold stratify stored seed for three months before sowing in the spring (Pettinger and Costanzo, 2002).
vegetative propagation
Sedum spathulifolium is the easiest of all rockery plants to propagate. Leaves, stems or rosettes will root with little or no pre-treatment (Kurkberg, 1996).
| Method | Success Rate | Time of Collection |
| --- | --- | --- |
| Softwood cuttings | Very high | Spring, summer, fall |
| Semi-hardwood cuttings | n/a | n/a |
| Hardwood cuttings | n/a | n/a |
| Root cuttings | n/a | n/a |
| Suckers | n/a | n/a |
| Plant division | High | Spring, summer, fall |
additional info and photos
For more information and pictures, visit the E-Flora BC website at www.eflora.bc.ca.www.eflora.bc.ca