Propagation Guidelines:
sand lacepod
Thysanocarpus curvipes Hook.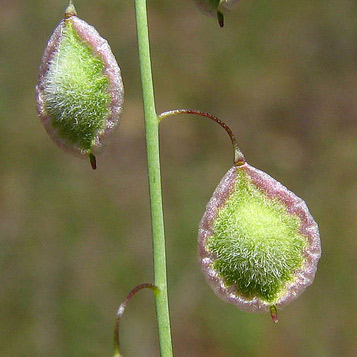 overview
Slender erect annuals with nearly-simple stems growing from a strong taproot. Flowers very small white or purplish in racemes. Stems 2-4 mm in diameter, tall, very slender, little branched, somewhat pubescent. Basal leaves 1-3.5 cm long, in an apparent rosette, coarsely dentate, narrowed at the base into a short petiole. Stem leaves mostly entire, small, sagittate. Fruit a pendulous one-seeded sillicle, 6 mm or less long, slightly longer than broad, plano-convex, with a flat, nearly-circular wing with conspicuous radiating veins or perforations (Gilkey and Dennis, 1967; Douglas et al., 2002). Photo by Nhu Nguyen.
family
ecological setting
Mesic to dry disturbed areas and waste places at low elevations. Infrequent on S.E. Vancouver Island, south to California and east to Idaho.
soil texture
nutrients
soil reaction salinity
moisture regime
shade tolerance
successional status
Probably an early seral species.
bec zone subzone status
Occurs in drier Garry oak communities in association with Astragalus, Draba, Poa, Lupinus, Brodiaea, and Erodium (specimen notes, University of Victoria Herbarium).
site rehabilitation
Possible candidate species for reclamation use.
flowering time
February to June (Neihaus, 1976).
fruit ripening time
April to June (Clark, 1998)
seed collection time
crop intervals
collection and abstraction
Collect fruits by hand-picking into collection bags when ripe (Potash and Aubrey, 1997).
seed storage
No information available. Assume cold storage at < 5º C.
fruit seed dormancy treatment
No information available.
additional info and photos
For more information and pictures, visit the E-Flora BC website at www.eflora.bc.ca.www.eflora.bc.ca