Spring field trips to explore species at risk
posted Tuesday, May 18, 2010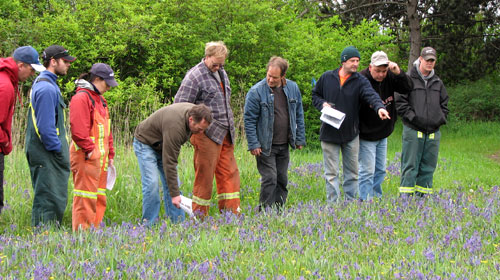 In April 2010, GOERT organized field trips for local government staff to learn about Garry oak habitat and associated rare plants. The project is funded by the federal Habitat Stewardship Program for Species at Risk and Parks Canada. With the funding, GOERT is able to approach municipalities and regional governments that have Garry oak-associated species at risk in their jurisdictions and offer workshops and field trips to educate staff about species at risk and responsibilities for stewardship of them. Indoor workshops were held in March, followed by an opportunity to see the plants in bloom in April. Biologist Matt Fairbarns led the trips to Beacon Hill Park and Saturna Island.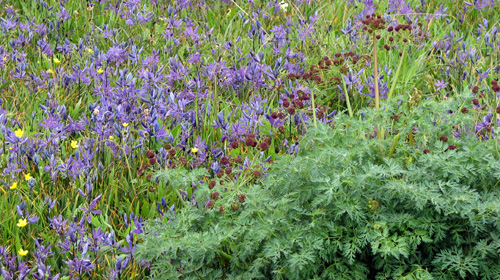 On April 21, Matt Fairbarns met City of Victoria Parks staff in Beacon Hill Park and led them to several rare plant locations, teaching them about the biology and habitat requirements of the plants. The staff were keen to learn how to care for these rare plants in their park.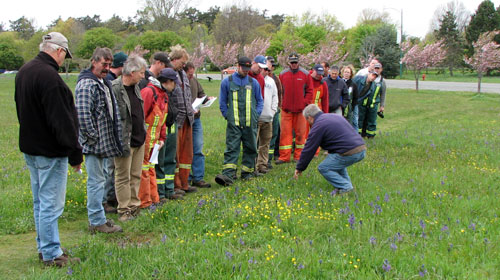 Among other plants, participants saw Threatened purple sanicle (Sanicula bipinnatifida), Endangered yellow montane violet (Viola praemorsa ssp. praemorsa), Endangered deltoid balsamroot (Balsamorhiza deltoidea), red-listed fern-leaved desert-parsley, also known as coastal chocolate-tips (Lomatium dissectum var. dissectum), Endangered dense-flowered lupine (Lupinus densiflorus var. densiflorus) on Dallas Bluffs, plus the last known location of Endangered golden paintbrush (Castilleja levisecta) in the park.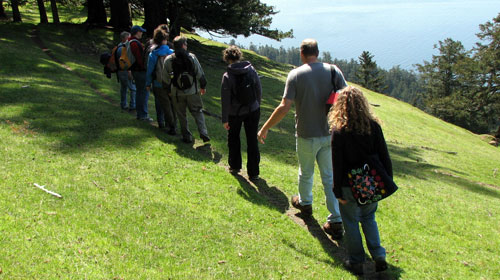 On April 22, Fairbarns met with planning staff from Islands Trust (south) and an Islands Trust Fund property manager for a day on Saturna Island. They walked along goat trails on a steep bluff, learning about the unique habitat and the rare plants that live there in harsh conditions with shallow soil, very little moisture, and constant grazing pressure from feral goats.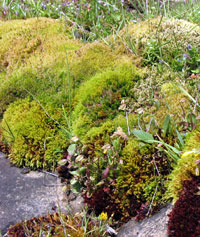 In areas where surface water seeps through the rock outcrops, wetter micro-climates provide habitat for plants that require more moisture. The areas are like miniature 'seep gardens', with a rich mixture of plants.
Regional Planning Manager David Marlor wrote about the trip, "I found it extremely useful to see the ecosystem and experience it and see it through the eyes of an experienced botanist. The experience will be useful to the planners in the future as we develop policy, regulations, and advise local trust committees and the public on land use planning decisions."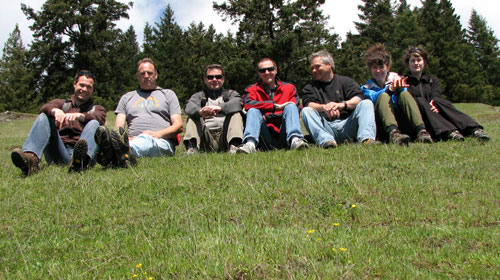 Participants saw Threatened purple sanicle (Sanicula bipinnatifida), blue-listed Macrae's clover (Trifolium dichotomum), and a profusion of Threatened slender popcornflower (Plagiobothrys tenellus), a tiny annual which seems to be having a big year.