Bring back the bluebirds
posted Wednesday, August 4, 2010
Photo journal by Elyse Portal (Parchoma)
Photos by Elyse except where noted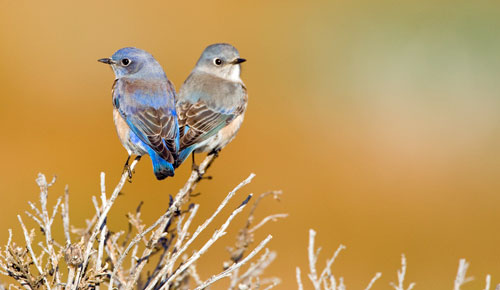 Once a common species within Garry oak ecosystems on Vancouver Island and the southern Gulf Islands, Western Bluebirds thrived until the 1950s, when their numbers began to decline. Since 1995, they have not nested on this region, and are considered extirpated.
Some of the reasons for their absence include the reduction of insect prey due to pesticide use, loss of Garry oak habitat, removal of standing dead trees, and competition for nest holes with exotic bird species such as European Starlings and English House Sparrows. Probably the greatest factor for their decline is urban development.
Western Bluebirds are secondary cavity nesters, meaning that they cannot build their own nest cavities, and depend on old woodpecker cavities, deadwood or nestboxes.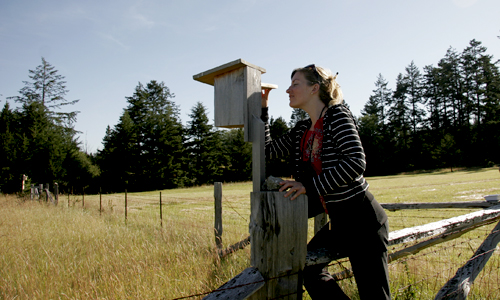 GOERT's Bring Back the Bluebirds project, led by our Vertebrates at Risk RIG, is focused on building nestboxes, finding appropriate habitat to host the boxes, and working with volunteers to monitor them during bluebird season (February through September). Once enough nestboxes have been distributed to willing monitors, GOERT, in association with partner organizations, will be transporting bluebirds from Washington State to southern Vancouver Island and possibly Salt Spring Island, hoping to re-establish a population in this region.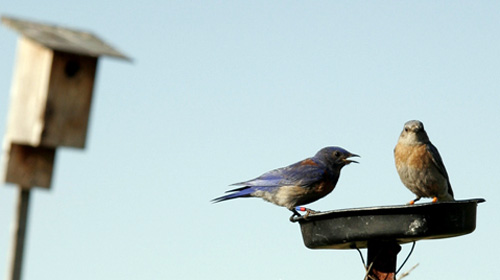 On July 12th, 2010 Carolyn Masson and I set out for San Juan Island with our bicycles for two days of learning about San Juan Preservation Trust's western bluebird reintroduction project, in place since 2007. We went to discuss logistics, gain inspiration from their outreach program, and observe bluebird nesting behaviour.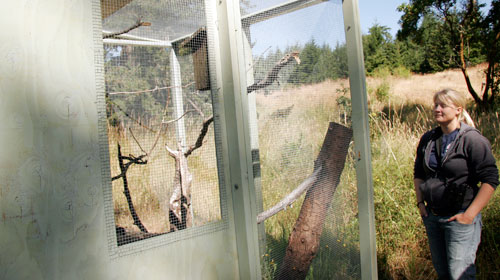 Once settled into our camp, we went to visit Kathleen Foley at the San Juan Preservation Trust in Friday Harbour. Kathleen, with great enthusiasm, fielded our questions about the project's vision, development, youth involvement, education and outreach. We learned that the project, before the birds were translocated from nearby Fort Lewis, Washington, had already developed into an island-wide effort. And soon after the first translocations, residents from all of the San Juan Islands (including Orcas and Lopez Islands) were becoming active participants. Today, more than 500 nestboxes have been placed on the San Juan Islands, and bluebirds are returning at exponential rates, with 24 known returns in 2010.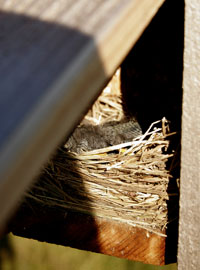 We woke at the crack of dawn the next day to meet with the bluebird field technician Anna Sample, to get a sense of her day-to-day role and observe the bluebirds in their choice habitat. That morning we visited nine nesting sites, all unique in some way, yet all similar in terms of their connection to being in or around fragmented Garry oak ecosystems. Probably the most interesting sightings included seeing a single adult male feed the fledglings of a mated pair, and watching the first clutch of fledged juveniles feeding their parents' second clutch of nestlings (mimicking their parents' behaviour). I guess in the bluebird world, the more help the merrier!
Overall, the trip affirmed for us the success of the San Juan re-introduction program, and helped us to envision GOERT's planned 2012 re-introduction, with hope for establishing a self-sustaining breeding population in this area.