Mike Meagher
posted Monday, May 17, 2010
Acorn Award May 2010: Congratulations to GOERT member Mike Meagher on the receipt of his Acorn Award. He has been with us since day one and has been one of the most active members in the organization, taking on a diversity of tasks over the years. He's cheerful and welcoming, and probably the most consistent attendee at Team and RIG meetings. If he's not out of town or playing golf or tennis he's present. And because he is involved in so many working groups, he functions as a bridge among them.
He has chaired the Research RIG since 2002 and is the organizing force behind the annual Research Colloquium. He is also a member of the Restoration and Management RIG and two of its steering committees. GOERT's founding Chair Marilyn Fuchs says, "When Mike first proposed a research colloquium, I thought it sounded like an awfully big task. Well, not only did he pull it off, but he has organized it every year but one since 2003 and has consistently improved the quality of the event and drawn a diverse crowd. What I particularly love is the way he encourages students to present their research, makes them feel welcome, and makes it a priority to pay for their lunch and transportation. He often organizes associated social events that are particularly valuable for the students."
Biologist James Miskelly puts it this way: "Mike goes out of his way to greet and acknowledge people. He is great at finding out who is new and introducing them to everyone." The crowd at the colloquium enjoys his wry sense of humour. There have been many moments of hilarity with Mike's good friend George Edwards trying to moderate the colloquia while fending off banter from Mike. We've heard rumours that Mike will soon be retiring as Chair, but we don't want to believe it.
Mike has enjoyed a long career in forestry, and his interest in trees led him to his volunteer work as Secretary of the Garry Oak Meadow Preservation Society (GOMPS) and then to his involvement in the formation of GOERT. He is also President of the Thetis Lake Park Nature Sanctuary Association.
A Career in Forestry
Since finishing his undergrad at UBC in 1957, Mike has worked for the BC Forest Service in regeneration surveys, planting and seed harvesting; done his Masters degree in soils in Toronto; lectured in Forestry; completed his PhD on the genetics of hemlock trees at UBC; worked on tree improvement for the BC Forest Service in Duncan (establishing seed orchards where trees are grown and their cones are collected); done hemlock breeding for the Research Branch of the provincial government in Victoria; he also worked on white pine and blister rust for the federal government at Pacific Forestry Centre (PFC).
GOMPS and GOERT
Mike became a member of GOERT's partner organization, the Garry Oak Meadow Preservation Society (GOMPS) in February 1997. Colleague Tom Gillespie says, "Mike had become familiar with us at PFC as we had been involved with growing thousands of oak seedlings there for several years, and had many consultations with Bob Duncan about the insects associated with oak meadows. We attended workshops there concerning gypsy moths and the overhead spraying of them."
Fred Hook, Environmental Technician with City of Victoria Parks, GOERT and GOMPS member adds, "As Secretary, Mike provides the continuity in GOMPS. He knows what tasks need to get done and keeps things moving. He has a marvellous knowledge of every oak on every golf course on Vancouver Island. He is an avid golfer, and it's remarkable how many of the samples for his extensive research on the genetics of oaks all the way from Comox to California came from golf courses. Read the research paper here.
A Love Story
Mike met his wife Birgitte in Toronto on the day she arrived in Canada from Denmark. Mike likes to joke that "she hit on the first Canadian she met." Birgitte's retort: "Well, he fell for it". Birgitte says that she is very outspoken and direct. She is confident that Mike is strong enough to cope with it and illustrates it with this story:
"On our first dinner out together, my boss allowed me leave for a while and told me to hurry back. Have you ever seen Mike eat? He is the slowest eater in the world and I come from a fast-eating family. The food came and I ate it. I looked up and saw that Mike's plate was totally full. Had my plate come before his? Had I rudely dived into my meal before his had come? As I watched I realized that the difference was that he was eating very slowly. I watched as he chewed and chewed, and it made no impression on his plate. I sat for what seemed like an eternity and watched him chew. I pulled out a cigarette and lit a match, then thought to ask him, 'Do you mind if I smoke?' He looked up and answered 'Yes'. Oh no, I am going to have to sit here forever and watch this man chewing, I thought. I looked at him in desperation and asked, 'Are you kidding?' But he wasn't, so I put out my match and put my cigarette away. Mike said, 'If you don't want my honest opinion, don't ask for it'. Well, we survived that moment at our first dinner, and we haven't had a problem since then. I think that having this honest exchange, we don't run into some of the difficulties that other couples do. It was a great way of starting a relationship, setting the stage that you're not going to be pretentious." Mike and Birgitte have a daughter, a son and three grandsons.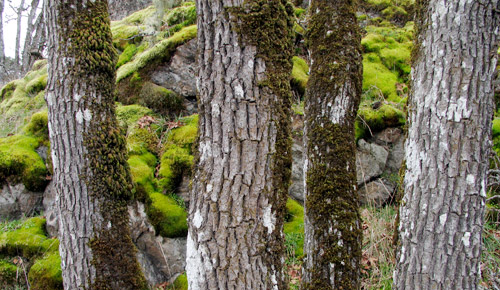 The forest for the trees
Birgitte tells another story: "At a big party for Mike's 60th birthday our daughter told this story: When she was about 16, she and her father were sharing a chairlift at Forbidden Plateau on a gloriously beautiful clear day. The coast mountains were standing like statues. Our daughter said, 'Wow, look at that! Isn't it gorgeous?' and Mike answered, 'Yes, look at all the cone buds on that tree!' At the party there was a loud burst of laughter from a family friend. She is also the daughter of a forester and she could relate to the comical reply from Mike. What the foresters have in common is the love of their jobs. He was lucky to find a profession that really grabs him."
We appreciate Mike's dedication to the cause over many years, his energy and thoroughness, his sense of humour and his efforts to modernize in this computer age. Mike was presented with his Acorn Award by GOERT Chair Brian Reader at our 7th Annual Research Colloquium in March 2010. Thank you Mike!
See more about Mike Meagher in his GOERT bio.