Patricia Boyle
posted Friday, July 17, 2009
Acorn Award July 2009: It is our pleasure to present an Acorn Award to volunteer Patricia Boyle. In addition to serving as a GOERT member, she lends her considerable expertise and enthusiasm to two of our restoration working groups: the Native Plant Propagation Steering Committee and the Invasive Species Steering Committee.
Pat brings a wealth of experience and unflagging enthusiasm for Garry oak ecosystem conservation to our team. Her positive energy is a catalyst for action, and her wisdom helps us develop effective solutions. She has contributed to GOERT in innumerable ways over the years and helped us work through many challenges. She has served on the GOERT executive, contributed to, reviewed and edited countless published materials, and been one of the most stalwart, long-standing members of GOERT.
Although Pat has been a keen gardener for twenty years, her interest in native plant gardening began when she and husband Neil built their house on Gonzales Bay in 2000. Pat researched, consulted resources, and poured her energy into creating a native plant garden of astounding beauty and variety. The garden has been toured by hundreds of people and was featured in the April 2007 issue of House and Home magazine. It features Saskatoon, Indian-plum, Oregon-grape, Garry oak trees, western crabapple, red-osier dogwood, woolly sunflower, coastal strawberry, snowbush, oceanspray, mock-orange, kinnikinnick, snowberry, sedum, western hawthorn, hairy manzanita, common juniper, native grasses and bulbs. She has also created a small Garry oak restoration area on the east side of the property, beside the walkway to Gonzales Beach, which can be viewed from the sidewalk along Crescent Road (see Gonzales Bay Native Plant Garden).
Pat is now a great advocate of native plant gardening and recovery of Garry oak ecosystems. In addition to her work with GOERT, she is an active member of Victoria's Native Plant Study Group and is the supervisor of the woodlands garden volunteers at Government House where she has built up a strong core of volunteers. The volunteers meet regularly to restore the Garry oak woodlands below Government House. They restore in style too, with elegant picnics! Word has it that Pat has single-handedly sold more Lee Valley's Japanese 'Hori Hori' knives than anyone we know. She promotes them for invasive plant removal and gardening in general.
Pat has a B.A. from the University of Western Ontario and an M.A. in historical geography from the University of Saskatchewan. She taught resource geography at Western while pursuing doctoral studies, having her students wander through woodlands to map tree associations of the Carolinian forest. She spent 19 years in Calgary, where she was a public school board trustee, and later the Advisor on Gender Issues for the Calgary Board of Education.
Pat's husband Neil is her self-professed garden sherpa; their son Iain lives in Vancouver, and Pat enjoys looking after her granddaughter, five-year-old Naëlle often. Their eldest son Colin and daughter-in-law Kip live in Los Angeles, and are parents to one-year-old Owen, who they see as often as they can. Neil adds that Pat is a keen bird watcher, avid world traveler, has a keen eye for good art, a member of two book clubs, an excellent cook, a whiz at cryptic crosswords, and a demon at Trivial Pursuit.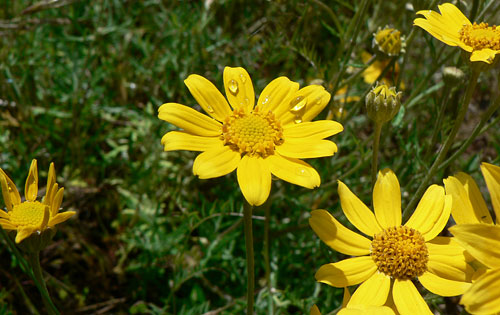 GOERT's Chair Brian Reader says "You could not ask for a better ambassador for the value and beauty of Garry oak ecosystems than Pat. She has passion, enthusiasm, knowledge, dedication and a community presence. Pat leads by example with her demonstration native plant garden and volunteer work at Government House and other restoration projects. She generously contributes to Garry oak ecosystems conservation in a myriad of ways and is a most deserving Acorn Award recipient."
Thank you Pat, for all your hard work on restoration of Garry oak ecosystems and for your participation in GOERT for more than six years.