Garry Oak habitat protected in Moorecroft Regional Park
posted Wednesday, July 25, 2012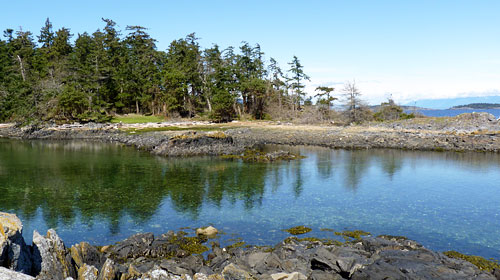 In March 2011, The Nature Trust of BC teamed up with the Regional District of Nanaimo (RDN) to acquire Moorecroft Camp (located in Nanoose Bay south of Dorcas Point off Stewart Road) from the BC Conference of the United Church. This unique property, now called Moorecroft Regional Park, contains just over 30 ha (79 acres) of mature coastal Douglas-fir forest lands that contain a pocket of Garry Oak, a small wetland, and a foreshore bay with 1 km of coastline.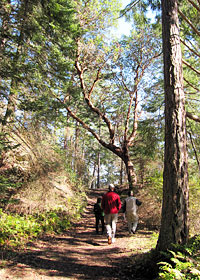 Partnership results in successful acquisition
Originally developed in 1934, this property operated as an all-girls summer camp and later, as a year round camp for retreats, schools, and community groups. In 2010, the property was put up for sale for $7.95 million and there was great concern that this one-of-a-kind gem would be lost to a future subdivision. Local conservation groups and concerned citizens were preparing for the worst-case scenario when three key factors came together. The church agreed to put a conservation covenant on the property with the Nature Conservancy of Canada that essentially zoned most of the lands for the protection of its ecological values. The Regional District of Nanaimo had identified the site as future parkland due to its recreational and ecological significance and was very interested in obtaining the property for parkland. And, the RDN and The Nature Trust of BC entered into an agreement to purchase the property for a reduced price of $4.8 million. While the acquisition has been completed, The Nature Trust continues the fundraising campaign to contribute to the acquisition cost and to assist with the restoration work on the property, now managed as a regional park with a conservation focus.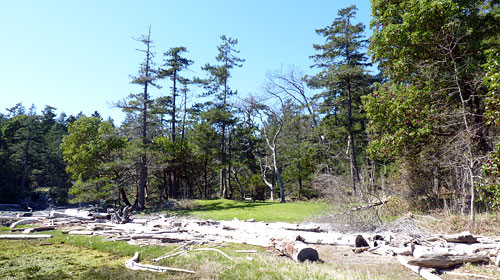 The Nature Trust of BC still needs your help to protect Moorecroft
The Nature Trust is planning a community fundraiser starting at noon on Saturday, September 8th at the nearby Northwest Bay Ranch (2632 Northwest Bay Road) which will feature local foods, art, and music for the benefit of Moorecroft Regional Park. Please contact Tracy Loewen at 1-866-288-7878 and let us know if you would like to join a guided tour on the morning of September 8th. For more information on this event go to www.naturetrust.bc.ca/news-events/events.