Mill Hill Regional Park
posted Sunday, July 31, 2011
Join the Annual Broom Sweep October 1 and 15, 2011!
The Capital Regional District is in its tenth year of a project to restore the Garry oak ecosystems at Mill Hill Regional Park. Up on the hill above the conifer forest are about 20 hectares of Garry oak ecosystems. If you've climbed Mill Hill in spring you've seen the fabulous display of wildflowers under Garry oak and arbutus trees – camas, spring-gold, shootingstar and satin-flower, just to name a few. Now that much of the Scotch broom has been removed, this lovely hilltop has become even more spectacular.

Removing invasive Scotch broom
In Garry oak ecosystems, invasive species are a big problem. Plant species that are not native to our region are now spreading aggressively and displacing native species. Scotch broom is an abundant and vigorous invader of Garry oak ecosystems. It produces thousands of seeds every year that lie dormant in the soil, waiting for the right conditions to germinate. Even when CRD Regional Parks staff and volunteers remove the visible broom, we know it is not gone. With increased light to the ground surface, seeds in the soil are stimulated to grow. That's why we follow a long-term restoration plan.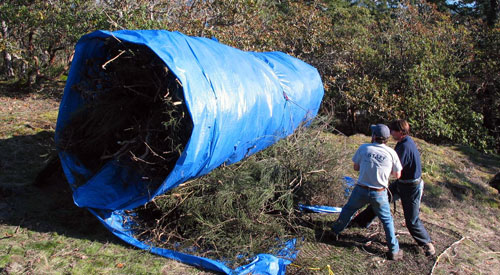 Restoration plan
The restoration project aims to restore and sustain the ecological integrity of the park's ecosystems and halt the loss and restore populations of rare and endangered plant species. Project activities include removal of invasive Scotch broom, daphne, gorse, sweetbrier and orchard grass; rare plant and habitat monitoring; and trail delineation and re-routing.

Rare plants benefit from restoration
This science-based and award-winning restoration project has garnered national recognition. Before the project started, seven rare plant species were known to occur at 32 sites in the park. Today, 14 rare species have been found at 206 sites. To date, approximately 46 metric tonnes of invasive species have been removed from about 16 hectares of the park. The annual helicopter lift to get the plant biomass off the hill is an exciting event. The success of the project is the result of the dedicated work of volunteers and staff.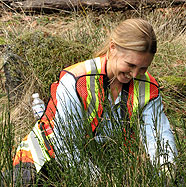 Participate!
Mill Hill Regional Park is a treasure worth protecting. Volunteer for the annual Broom Sweep in the fall and be part of an enthusiastic and fun group of volunteers helping to restore threatened Garry Oak ecosystems, which include resident populations of rare and endangered plants.
Regional Parks General Manager Lloyd Rushton said, "This project brings passionate community members together with Regional Parks staff under the common goal of preserving this important site. Mill Hill is a treasure worth protecting."
The long term project is funded by the Government of Canada provided through the Department of the Environment, and by CRD Regional Parks.
For more information, click here.
To volunteer call 250-478-3344 or email.
For the CRD nature programs schedule, click here.
For more about Mill Hill Regional Park, click here.