Trial Island restoration project
posted Wednesday, October 12, 2011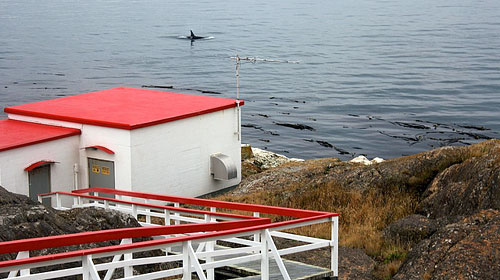 GOERT's Trial Island restoration project, funded by the Government of Canada through the Federal Department of the Environment, is now in its fifth year. Trial Island has one of the most significant concentrations of plant species at risk in Garry Oak and associated ecosystems. Invasive species (primarily Scotch Broom, Spurge-laurel, English Ivy and Gorse) have been identified as one of the leading threats to these species, and the purpose of the project is to remove the invasive plants from meadows on Trial Island that contain COSEWIC-listed species. The removal of exotic shrubs increases habitat quality and reduces competitive stress on the rare plants.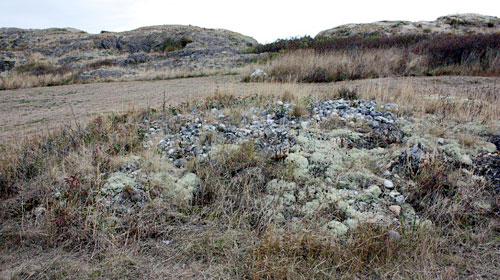 Trial Islands Ecological Reserve—a bit of history and excitement!
by Louise Goulet
Finally, I made it to Trial Islands Ecological Reserve! It took long enough, although the reserve is just a short distance from my home in Oak Bay. It takes a boat and a knowledgeable operator to get there—the currents created by the tides can be vicious. Participating in GOERT's invasive plant removal project led by rare plant biologist Matt Fairbarns earlier this month finally allowed me and 20 other volunteers to make it to a reserve that is very special to me as well as many others.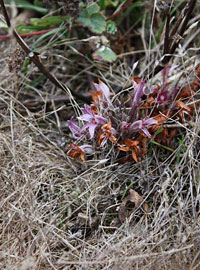 Trial Islands Ecological Reserve (ER #132) was the last ecological reserve I helped create, in July 1990, as Coordinator for the BC Ecological Reserves Program (ER). After the decentralization of the Program within the larger BC Parks organization in late 1990, new reserves were still created by BC Parks but were then recommended for designation via the provincial Land and Resource Management Planning process (LRMP), rather than being recommended by ER staff such as Dr. Hans Roemer or other knowledgeable plant ecologists such as Dr. Jim Pojar or Dr. Adolf Ceska.
At the time the reserve was created, it was being considered as a potential location for a sewage treatment plant (!) and the provincial islands were under a long-term federal lease. Publicity generated by a very determined Times Colonist reporter (apologies for forgetting your name) and several letters to the federal government finally resulted in most of the federal lease being cancelled so that the new ER could be designated. Small leases remain for the lighthouse and a CFAX radio transmitter tower.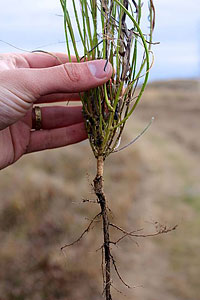 Protecting these small, rocky wind-swept islands was a real coup for conservation. Close to 20 rare vascular plants are present in the reserve, 11 of which are in the categories of greatest rarity in B.C. These are mostly more southerly plants, at or near the northern limit of their range in the Victoria area. Shallow soils, summer drought, and strong winds combine to prevent tree growth, although small stands of stunted poplars and Garry Oaks can be found in rocky depressions. Plant communities consist mainly of herbaceous meadows, shrub thickets and sparse growth of lichens and other plants on bedrock.
During the spring, stunning plants such as the Golden Paintbrush brighten the meadows along with more common plants such as Common Camas, Death-camas, Chocolate Lily, Shooting Star, Seablush and Blue-eyed Mary. Mowing by the resident lighthouse keeper, Meredith, prevents taller plants such as snowberry from invading these open areas, also allowing rare plants such as the White-topped Aster and Dense-flowered Lupine to thrive. Other plants such as Victoria's Owl-clover, Scouler's Popcornflower and Bigelow's Plantain depend on vernal pools for their survival. The islands are also dotted with several First Nation burial mounds, where light green lichens and medium-sized rocks create an interesting patchwork of colours.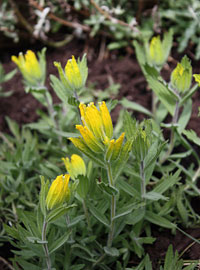 Our day on the island was too short, but was exciting and productive. Lots of Scotch Broom, English Ivy and Gorse came to an early demise. New acquaintances were made (thanks for your hospitality, Meredith!), tall tales were told, and "plant growing recipes" and phone numbers were exchanged. It was also great to see so many young people volunteering for the restoration work—in particular, thanks to Benjamin and the young ladies from the UVic Restoration Program for their enthusiasm and hard work!
BUT, the most exciting part (besides climbing the lighthouse tower and Matt's rare plant talk and tour!) was the small pod of Killer Whales darting back and forth just off the island shores (see the video!), spy-hopping to observe the strange visitors; and the two humpback whales, heard about but not seen by us, that were swimming off Ogden Point! And the boat ride was great. What a day, and no rain to speak of! One could not ask for better.
****************************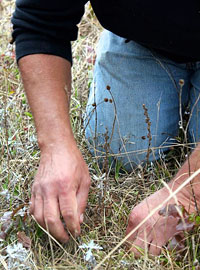 In the photo at left, rare plant expert Matt Fairbarns shows volunteers the tiny leaves crowded at the base of a Golden Paintbrush plant. The leaves will remain small and congested until spring when the warm weather will cue the plants to expand the leaf surfaces and extend the internodes between leaves, to rapidly produce a vigorous shoot.
Trial Island covers about 18 ha, and COSEWIC-listed species at risk occur over almost all of the island, including Golden Paintbrush (Castilleja levisecta), Coastal Scouler's Catchfly (Silene scouleri), Seaside Bird's-foot Lotus (Lotus formosissimus), Snake-root Sanicle (Sanicula arctopoides), Purple Sanicle (Sanicula bipinnatifida), White-top Aster (Sericocarpus rigidus), and Dense-flowered Lupine (Lupinus densiflorus). As well, Trial Island has 99% of the global population of Victoria's Owl-clover, a newly-described species which is globally critically-imperiled and has been recently assessed by COSEWIC and designated Endangered. There are also three provincially-listed species. All seven listed species are part of GOERT's Recovery Strategy for Garry Oak and Associated Ecosystems.
The restoration project supported by GOERT only applies to the 13 ha of provincial crown lands on Trial Island, including the ecological reserve. The rest of the island is federal crown land (Canada Coast Guard) and a complementary project to control invasive species on the federal lands is also underway.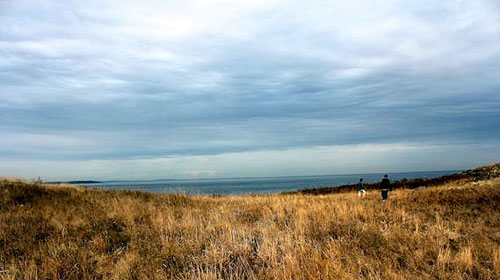 One or two volunteer restoration days per year make all the difference to this project. If you are interested in joining a future volunteer restoration trip to Trial Island, please contact us.
Due to extremely rare and sensitive plants and ecosystems present on Trial Islands Ecological Reserve, permission to access is by Park Use Permit only.